Shipping
(Posted on 16/12/19)
Britannia P&I Club is delighted to announce that Konstantinos Samaritis will be taking over as head of its office in Greece with effect from 1 January 2020.Konstantinos is a qualified Greek lawyer and accredited mediator. He joined Britannia's Managers, Tindall Riley, in 2018, having previously worked in both Standard...
(Posted on 16/12/19)
The Britannia Steam Ship Insurance Association Limited (Britannia P&I) and The Korea Shipowners' Mutual Protection and Indemnity Association (KP&I) have established a new collaboration agreement, Korea-Britannia P&I Collaboration 'KBC'.This new facility, which is exclusively available to Korean shipowners...
(Posted on 16/12/19)
Further Marine Technology Co. Ltd., (FMT) and Indian Register of Shipping (IRClass) have signed a MOU on strategic cooperation. By combining the two companies' knowledge and networks, FMT and IRClass are targeting development of the latest generation of bulk carrier designs to expand the business in the South East Asian market...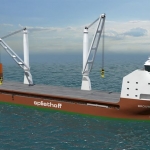 (Posted on 03/12/19)
The technology group Wärtsilä has been selected to supply a comprehensive package of solutions for two new state-of-the-art vessels being built for the Netherlands-based shipping company Spliethoff. The ships are under construction at the Fujian Mawei Shipbuilding yard in China. The order with Wärtsilä is booked...
(Posted on 03/12/19)
The fundamental balance in the market has worsened in 2019 with supply growth outstripping demand, and BIMCO expects that this will continue into 2020.After peaking in September, the fundamentals of the market have begun to drag on freight rates – although the rates remain above the average experienced so far this year, buoyed...
(Posted on 03/12/19)
Jamaica has confirmed its position at the heart of international maritime legislature after being re-elected to Category C of the Council of the International Maritime Organization (IMO).Jamaica, was re-elected on Friday, November 29, 2019, during the 31st session of the IMO Assembly held at the IMO Headquarters in London, to serve...