Shipping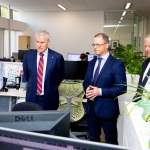 (Posted on 12/02/19)
Australia's Deputy Prime Minister and Minister for Infrastructure, Transport and Regional Development Michael McCormack has welcomed the opportunity to learn more about another great Australian business success story, OMC International, with its award-winning e-Navigation technology designed to improve transits for large commercial...
(Posted on 12/02/19)
The Indian Register of Shipping (IRClass), a leading classification society, has opened two new offices in India – one located in Paradip, a major maritime port town on the east coast of India, and another in Guwahati, the largest city in northeast Indian state of Assam. Strengthening IRClass' service network, these...
(Posted on 12/02/19)
"The 2020 global sulphur cap will be the regulatory game changer of the decade with profound implications for the economics of shipping" believes Chairman of the International Chamber of Shipping (ICS), Esben Poulsson. "But there are even more profound changes to come. We are rapidly moving into a multi-fuel...
(Posted on 12/02/19)
Dampskibsselskabet NORDEN A/S has signed a 10-year Panamax Contract of Affreightment (COA) with Indian utility firm Sembcorp Energy India Ltd.From 1 April 2019 until 31 March 2029 NORDEN will carry out transportation of steam coal in Panamax shipments totalling 12 million tonnes over the decade.Demand for energy in India is on the...
(Posted on 12/02/19)
Alfa Laval will begin PureBallast 3 crew training courses in Houston, Manila and Mumbai during the first and second quarters of 2019. The strategically located sites complement Alfa Laval's state-of-the-art facility in Stockholm, forming a network of training locations to serve the needs of customers worldwide. &ldquo...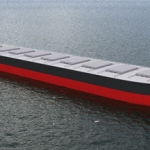 (Posted on 31/01/19)
Leading Classification Society ClassNK has granted an Approval in Principle (AIP) based on its Rule Part GF which adopts IGF Code (regulation for ships using low-flashpoint fuels) to Kawasaki Heavy Industries (KHI) for their project on the concept design of an LNG-fuelled 207K DWT bulk carrier.Speaking on the occasion, ClassNK Corporate...