Shipping
(Posted on 28/08/19)
Essar Shipping Ltd (ESL) has announced that seven of the 12 vessels in its fleet have been recognised by the United States Coast Guard's Automated Mutual Assistance Vessel Rescue (AMVER) System Programme for their outstanding commitment to safety at sea. The award ceremony was held in Mumbai on 22 August 2019.The seven vessels...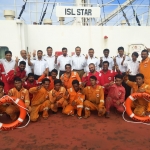 (Posted on 28/08/19)
ISL Star, a bulk carrier managed by Wallem Group, together with the U.S. Coast Guard successfully retrieved a crew of eight Indonesian fishermen adrift for over a week after their boat lost power in the middle of the western Pacific.The Hallelujar, a 60ft Indonesian-flagged fishing vessel of wooden construction, had been adrift...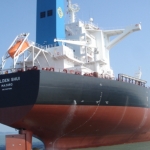 (Posted on 19/08/19)
Golden Ocean Group Limited, the John Fredriksen-owned dry bulk shipping company, has announced its results for the quarter ended June 30, 2019.Birgitte Ringstad Vartdal, Chief Executive Officer of Golden Ocean Management AS, commented: "Following a weak first half of the year, the third quarter has started off on a very strong...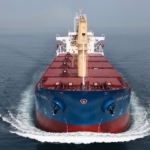 (Posted on 19/08/19)
NORDEN has contracted with Enviva to transport 1.3-1.5 million metric tons of wood pellets from the United States to Europe over a 6-year period. The Contract of Affreightment (CoA), which runs from 2021 to 2026, builds on NORDEN's long-term collaboration with Enviva, which began in 2012 and expands the co-operation between...
(Posted on 19/08/19)
Leading classification society, the Indian Register of Shipping (IRClass), recently launched a bespoke training course for the Indian Coast Guard (ICG) at IRClass' head office in Mumbai, India.Welcoming senior officers of the ICG, Mr Suresh Sinha, Managing Director of IRClass, lauded the close collaboration between IRClass...
(Posted on 19/08/19)
Leading maritime software specialist GTMaritime has appointed satellite connectivity expert Keng Teen Phang (KT) as Head of Sales for Asia-Pacific to drive business development as the region forges ahead in maritime digitalisation and faces up to fast-emerging disruptive cyber threats.Keng Teen (KT) brings more than 15 years&rsquo...