Shipping
(Posted on 14/01/19)
The largest single volume order received for the barnacle-repelling antifouling ingredient Selektope coupled with strong commercial developments in late 2018 will see the number of ships using Selektope-containing antifouling coatings more than double in 2019.Placed by one of the industry's leading marine coating manufacturers...
(Posted on 14/01/19)
The technology group Wärtsilä has announces the appointment of Torsten Buessow as Director of its Transas business. He will report to Joonas Makkonen, Vice President of Voyage Solutions at Wärtsilä.Torsten joins Wärtsilä from the classification society, DNV GL where he worked for more than a decade,...
(Posted on 14/01/19)
Maritime security specialist Naval Dome has come up with an innovative approach to managing the cyber security status of all protected systems onboard ships, allowing shipboard and shoreside staff to monitor and evaluate fleet-wide system data, even when they are offline. Until now, only crew members have been able to access a ship...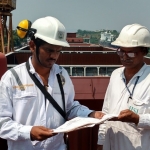 (Posted on 07/01/19)
Leading classification society Indian Register of Shipping (IRClass), has made significant inroads into the Middle East market, following the announcement on its plans to further strengthen its footprint in the region. IRClass is an international ship classification society providing ship classification and certification as well...
(Posted on 07/01/19)
Leading classification society ClassNK has announced that it released amendments to its Rules and Guidance for the Survey and Construction of Steel Ships on 25 December 2018.ClassNK is constantly revising its Rules and Guidance in order to reflect the latest results from relevant research and development projects, feedback from...
(Posted on 07/01/19)
Genco Shipping and Trading Limited has announced the appointment of Captain Robert Hughes as Chief Operations Officer, effective 22 January 2019. Reporting to the Chief Executive Officer, John C. Wobensmith, Captain Hughes will be based at the Company's headquarters in New York and will oversee Genco's operational and...