Shipping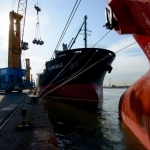 (Posted on 10/09/19)
Clipper Bulk, in close collaboration with a financial partner, has acquired three Handysize dry cargo vessels.The acquisition involves: A 32,755 DWT carrier built in 2010, to be renamed Clipper Appollonia; A 32,691 DWT carrier built in 2010 to be renamed Clipper Aegina; A 32,535 DWT carrier built in 2010 to be renamed Clipper AlexandriaClipper...
(Posted on 10/09/19)
A vision of the Ship Manager of the Future and the way ship management companies will interact with their principals in an age dominated by digitalisation and smart technology, will be the subject of discussion at Columbia Shipmanagement's event during London International Shipping Week (LISW).Mark O'Neil, CEO of Columbia...
(Posted on 10/09/19)
Arun Sharma, Executive Chairman of the Indian Register of Shipping (IRClass), has been formally introduced as the new Chairman of the International Association of Classification Societies (IACS) to a group of specially invited maritime journalists at a press conference in London.Sharma was elected as the new Chairman of IACS in...
(Posted on 10/09/19)
Leading Classification Society ClassNK has established a cross-sectional cyber security project team made up of ship and security experts of the Society in order to accelerate its cyber security service in response to the expanding needs of clients.Cyber security for ships is entering a practical stage, including the Maritime Safety...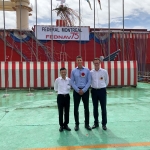 (Posted on 03/09/19)
Fednav Limited has taken delivery of the Federal Montreal, its newest Great Lakes-suitable handysize vessel, at the Oshima Shipyard in Japan. The ceremony was attended by senior management from both Fednav and the shipyard.The Federal Montreal is a 34,500 DWT international ice-class bulk carrier, flagged in the Marshall Islands....
(Posted on 03/09/19)
ESL Shipping Ltd., part of Aspo Group, has acquired bulk carrier Alppila from SEB Leasing. The acquisition was made in accordance with the terms and conditions of the lease agreement signed in 2011.Designed to meet the needs of ESL Shipping's customers, m/s Alppila is a self-unloading bulk carrier specially built for Baltic Sea...