Shipping
(Posted on 18/04/19)
Leading Classification Society ClassNK has released its Cyber Security Management System for Ships.As part of the ClassNK Cyber Security Series, ClassNK regularly releases guidelines and standards that outline cyber security measures based on the recently-released ClassNK Cyber Security Approach that outlines ClassNK's basic...
(Posted on 18/04/19)
The International Maritime Organization (IMO) has agreed to address maritime corruption by including this important issue in its work programme for the Facilitation Committee. The decision to include an anti-corruption agenda came at the latest meeting of the IMO's Facilitation Committee (FAL) in response to a submission from...
(Posted on 18/04/19)
Hydrex has developed a flexible mobdock repair method that enables the underwater replacement of all types and sizes of shaft seals. This technology has been successfully used by their diver/technicians for over a decade. It allows ship owners to keep their vessel sailing, saving precious time and money. Damaged stern tube...
(Posted on 18/04/19)
The Leading Maritime Capitals report for 2019 is has been published, with fresh insight on which maritime metropolises provide the best support for companies in shipping and related services. Criteria include soft and hard infrastructure and access to world-class talent and services – all key components that maritime businesses...
(Posted on 18/04/19)
Indian Register of Shipping (IRClass), continues to grow steadily in the Asia Pacific region – enhancing presence in key Asian shipping markets including Malaysia, Indonesia and China.The classification society had earlier received authorisation as Recognised Organisation (RO) from the flag administrations of Malaysia and...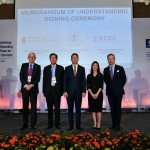 (Posted on 08/04/19)
Yesterday in Singapore, the International Chamber of Shipping (ICS), the Asian Shipowners' Association (ASA) and the European Community Shipowners' Associations (ECSA) signed a joint memorandum of understanding. This new MOU codifies the extensive level of co-operation that already exists between these important international...