Shipping
(Posted on 24/10/18)
Accidents in enclosed spaces have long been a source of serious injuries and fatalities. Analysis into these accidents shows that the underlying cause is often a failure to follow established procedures that are put in place to ensure the safety of seafarers. Whether this is due to insufficient knowledge or a disregard for safety...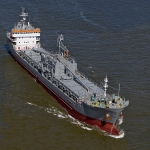 (Posted on 11/10/18)
The 'NACC Alicudi' is setting new standards in the cement carrier market. Converted in 2017 with a Van Aalst dry bulk handling system, the vessel became a unique and state-of-the-art 120m self-discharging cement carrier.The Van Aalst cement handling system is based on compressors and vacuum pumps, driven by Tier III...
(Posted on 11/10/18)
Star Bulk Carriers Corp., a global shipping company focusing on the transportation of dry bulk cargoes has announced that it has entered into a $310 million loan agreement, which includes a $70 million tranche that will exclusively finance the procurement and retrofitting of scrubbers for up to approx. 50 vessels in Star Bulk&rsquo...
(Posted on 11/10/18)
The International Chamber of Shipping (ICS) has recently published a new edition of its 'Guidance for the Preparation and Implementation of Garbage Management Plans as Required by MARPOL Annex V'. This second edition is intended to help shipping companies comply with the latest requirements of the IMO regulation regarding...
(Posted on 11/10/18)
Scorpio Bulkers Inc. have announced that the Company has received a commitment from Nordea Bank Abp, acting through its New York branch, and DVB Bank SE for a loan facility of up to $90.0 million. The loan facility will be used to finance up to 60% of the fair market value of six Ultramax dry bulk vessels (SBI Orion...
(Posted on 11/10/18)
Synergy Group has launched a new counselling service aimed at improving mental health support for sea and shore-based maritime personnel.iCALL is a free psychological helpline for the worldwide maritime community available 24/7 in nine different languages via phone, email and the chat-based nULTA App."Numerous studies into...