Vartdal quits Golden Ocean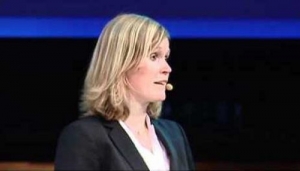 (Posted on 22/11/19)
Golden Ocean Group Limited has announced that Ms. Birgitte Ringstad Vartdal, CEO of Golden Ocean Management AS, has submitted her notice of resignation. Ms. Vartdal has held the position as CEO since April 2016, and before that served as CFO since June 2010.
Golden Ocean Group Limited is a leading international dry bulk shipping company founded in 1996 and based in Bermuda. Golden Ocean is mainly operating in the Capesize, Panamax and Supramax segments and the Company is listed on NASDAQ and the Oslo Stock Exchange. The Company owns and controls a fleet of 77 vessels including vessels chartered in on long term time charter contracts. Golden Ocean provide customers with flexible and reliable transportation services and develop strong industry relations with partners and customers.
The Company has appointed Ola Lorentzon, the Chairman of the Board of Golden Ocean, as interim CEO and will initiate the search for a new CEO immediately. Ms. Vartdal will step down as a CEO on November 30, 2019 and will remain available to the Company until the end of February 2020.
Ms. Vartdal commented: "I have had 10 fantastic years with Golden Ocean and am pleased with the development of the Company during this period. The Company is now in a solid financial position, just delivered its best quarterly result since 2013 and is well prepared ahead of IMO 2020. I am proud of what all our dedicated and knowledgeable colleagues have created, and I am confident that Golden Ocean has a bright future"
Mr. Lorentzon commented: "I would like to thank Birgitte for her efforts throughout the last 10 years, first as CFO and then as the CEO since 2016. Birgitte has had an important role in the management and development of the Company. I wish Birgitte all the best for the future. "
Latest News
(Posted on 26/11/23)
Shi.E.L.D. Services has selected Spinergie as its preferred digitized solution provider to monitor and... Read more
(Posted on 26/11/23)
Thousands of cadets and trainees in India will benefit from in-depth wellness training and support thanks... Read more
(Posted on 17/11/23)
As shipping continues its journey to decarbonisation, INTERCARGO will host a special forum in Athens... Read more
(Posted on 13/11/23)
INTERCARGO was deeply saddened and concerned to hear of the reported appalling missile attack on the... Read more
(Posted on 13/11/23)
A new-look Wellness at Sea Awareness Campaign for seafarers, their families and shore staff that &ldquo... Read more
(Posted on 05/11/23)
Classification society DNV has entered into a Joint Development Project (JDP) with AL Group and its... Read more
(Posted on 31/10/23)
Samsung Heavy Industries (SHI) and leading classification society DNV have inked a Memorandum of Understanding... Read more
(Posted on 31/10/23)
WISTA International, during its Annual General Meeting (AGM) held in Montevideo, Uruguay, on 25 October... Read more
(Posted on 31/10/23)
Members of INTERCARGO met in Athens last week for the Association's Annual General Meeting, Executive... Read more
(Posted on 26/10/23)
The Columbia Group (Columbia) has opened a new manning agency, Columbia Shipmanagement Vietnam (CSM... Read more