Shipping
(Posted on 07/07/19)
Diana Shipping Inc., a global shipping company specializing in the ownership of dry bulk vessels, has announced that, through a separate wholly-owned subsidiary, it has entered into a time charter contract with Uniper Global Commodities SE, Düsseldorf, for one of its Ice Class Panamax dry bulk vessels, the m/v Atalandi. The...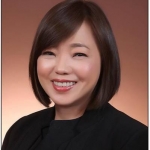 (Posted on 04/07/19)
The Council of the Singapore Shipping Association (SSA) - the industry voice of Singapore's maritime community - has made history by nominating the Association's first-ever female President since its founding in 1985.At SSA's 23rd Annual General Meeting held on 26 June 2019, the 2019/2021 Council elected Caroline...
(Posted on 04/07/19)
ESL Shipping is celebrating 70 years in business. This day 70 years ago, the contract was signed to acquire 1911-built steamer Marja-Liisa Nurminen from John Nurminen. The vessel was renamed Arkadia, starting the tradition to name company's vessels after places in Helsinki. In today's standards, the vessel was old and small...
(Posted on 04/07/19)
Mental health awareness should be made a core component of first aid seafarer training, according to Captain Rajesh Unni, CEO and Founder of leading shipmanager Synergy Group.Speaking last week at a day-long training session designed to further the understanding of mental health at sea, he told delegates in Mumbai, India, that more...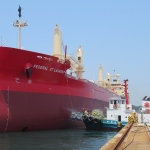 (Posted on 30/06/19)
Last week at the Oshima Shipyard in Japan, Fednav Limited took delivery of the Federal St Laurent, its latest Great Lakes-suitable handysize vessel. The ceremony was attended by officials from both Fednav and Oshima together with Ms. Denisha Lubiani of Alcoa, the godmother of the vessel.Fednav Limited is privately owned and Canada...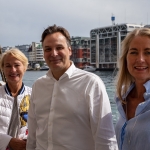 (Posted on 27/06/19)
From 1 July, after over 20 years as CEO, Camilla Grieg will take the position as Chair of the Board of Grieg Star. At the same date, Matt Duke takes over as CEO.Grieg Star is a ship owning and operating company within the open hatch and dry bulk segments. They are a part of the Grieg Group, with a history back to 1884. Together...