Shipping
(Posted on 19/12/18)
Diana Shipping Inc., a global shipping company specializing in the ownership of dry bulk vessels, has announced that, through a separate wholly-owned subsidiary, it has entered into a time charter contract with Koch Shipping Pte. Ltd., Singapore, for one of its Panamax dry bulk vessels, the m/v Ismene. The gross charter rate is...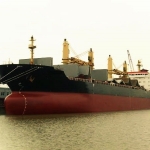 (Posted on 11/12/18)
The Carbon Trust and ClassNK Consulting Service Co., Ltd. have signed an agreement to work together to develop a commercial partnership for offering climate change and sustainability services. The partnership will initially involve the two organisations exploring collaborative opportunities to deliver advice and consulting projects...
(Posted on 11/12/18)
Ballast water treatment manufacturer BIO-UV Group has noted the U.S. Administration's approval of the Vessel Incidental Discharge Act (VIDA) and the possible acceptance of the Most Probable Number (MPN) methodology, the method currently used by the International Maritime Organisation (IMO) to test BWMS treatment efficiency...
(Posted on 11/12/18)
After over 23 years of service, Alan Lo, the Director of North's Hong Kong office, retired on 30th November. Lo served the Club and its members with distinction throughout this period and has been a respected ambassador and a good friend and colleague to all at North.Lo started his career with North in 1995 as Manager of the...
(Posted on 11/12/18)
A Filipino seafarer is recovering in hospital after fracturing his spine falling from a ladder on 14 November.Adriano Gicos, 55, was descending into the ship's hold when he slipped and fell four metres, while travelling from Singapore to Brazil. Colleagues who witnessed the accident had to use a crane to get him back to his...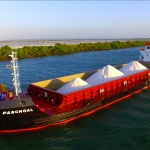 (Posted on 03/12/18)
Thordon Bearings has completed a range of water-lubricated and grease-free bearing installations to a third salt lugger in the Salinor/Navenor fleet, following the successful retrofitting of bearings to problematic newbuilds.The Brazilian owner opted for the Thordon package following the rapid failure of the bronze and phenolic...