Shipping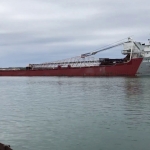 (Posted on 08/06/18)
The oil-to-water lubricated tailshaft conversion Thordon Bearings carried out last year to the 26,260dwt Great Lakes Fleet-managed bulk carrier SS John G. Munson has successfully completed its first season as a diesel-powered ship. The John G. Munson was built more than 64 years ago by Manitowoc Shipbuilding and lengthened in 1976...
(Posted on 08/06/18)
With global economic activity shifting from the West to the East, competition between Middle Eastern and Asian maritime nations intensifies in their bid to attract a bigger slice of the global shipping industry's diverse revenue streams.As a result, established Far Eastern shipping centres in Hong Kong and Singapore are already...
(Posted on 08/06/18)
Algoma Central Corporation, a leading provider of marine transportation services, has announced that NovaAlgoma Cement Carriers Limited (NACC), has acquired a 25% ownership interest in JT Cement (JT Cement), joining KGJ Cement Holdings AS (KGJ) and Erik Thun AB (Thun) of Sweden in the cement company which owns a fleet of seven smaller...
(Posted on 08/06/18)
Bernhard Schulte Shipmanagement and Columbia Shipmanagement have combined their global buying power to create an independent procurement company to deliver greater value in ship supply costs for shipowners. The move guarantees principals lower costs in the procurement of a wide range of consumables while guaranteeing product quality...
(Posted on 08/06/18)
The Republic of the Marshall Islands (RMI) has submitted a paper to the International Maritime Organization (IMO) Intersessional Working Group (ISWG) on the consistent implementation of the 2020 global fuel oil sulphur standard under MARPOL Annex VI.The submission, which was co-sponsored by the Republic of Liberia, the Baltic and...
(Posted on 08/06/18)
"Posidonia could not have come at a better time for us," said Andrew Marshall, Coldharbour Marine Chief Executive, a few days before Posidonia opened its doors to the global shipping community in Athens. "We are in the final stages of a successful ballast water treatment installation for one of our key Greek clients...