Shipping
(Posted on 01/11/18)
Hong Kong has the potential to become an even more attractive international hub for arbitration in the Far East if it develops a more global strategy and embraces foreign investment, according to Edward Yang Liu, Hill Dickinson counsel in Hong Kong.Hong Kong has its own unique advantages and favourable conditions and can provide...
(Posted on 01/11/18)
The fourth annual The Maritime Standard Ship Finance and Trade Conference is being held at the Sheraton Abu Dhabi Hotel & Resort on Tuesday 6th November. TMS Ship Finance and Trade Conference has gained in relevance and popularity by bringing together experts from the fields of shipping, ports, banking, finance, trade and maritime...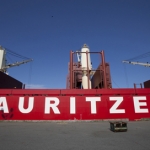 (Posted on 24/10/18)
J. Lauritzen has announced the appointment of Niels Josefsen as CEO of Lauritzen Bulkers.Niels Josefsen will take the reins from Thomas Wøidemann, Chief Operating Officer (COO), who since March 2017 has been responsible for the commercial and operational activities of both Lauritzen Bulkers and Lauritzen Kosan."Thomas...
(Posted on 24/10/18)
Scorpio Bulkers Inc. has reported its results for the three and nine months ended September 30, 2018.The Company also announced that on October 19, 2018, its Board of Directors declared a quarterly cash dividend of $0.02 per share on the Company's common shares.For the third quarter of 2018, the Company&rsquo...
(Posted on 24/10/18)
The International Chamber of Shipping (ICS) and the International Transport Workers' Federation (ITF) have jointly released new 'Guidelines for implementing the Welfare aspects of the Maritime Labour Convention (MLC)'. Adopted by the International Labour Organization in 2006, the MLC aims to ensure comprehensive...
(Posted on 24/10/18)
Accidents in enclosed spaces have long been a source of serious injuries and fatalities. Analysis into these accidents shows that the underlying cause is often a failure to follow established procedures that are put in place to ensure the safety of seafarers. Whether this is due to insufficient knowledge or a disregard for safety...