Swedish Club's loss prevention solutions at the touch of a button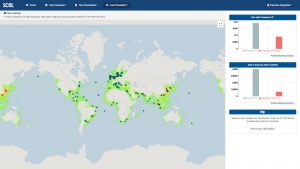 (Posted on 14/04/22)
The Swedish Club has just launched a brand new version of its hugely popular Swedish Club OnLine portal. SCOL has been a valuable resource for members, brokers and other stakeholders for many years, providing information on insurance status, claims and benchmarking. However, with technology constantly improving, the Club has been keen to harness these new technologies and pass the benefits on to its members and business colleagues.
The next generation SCOL is more user friendly, with simpler, direct navigation and search tools. TELP, the Club's innovative Trade Enabling Loss Prevention tool, has its own area, and the new portal also features a wealth of loss prevention guidance and information – all at the touch of a button. A library is now available where the members easily access all Loss Prevention publications and other resources.
Lars Malm, Director, Strategic Business Development and Client Relations at the Club says: "We believe that the new features we have added will deliver real value for members and business partners – particularly the claims analysis information provided for each vessel and across a member's fleet. The next generation SCOL is now closely integrated to the specific needs of the user and has been designed to deliver individualised loss prevention solutions direct to their desk."
Before launching the new site, the Club extensively trialled the prototype with business partners.
Inger Landerholm, Managing Director of Capital Insurance Services MIS, says: "SCOL has always been a good tool in our day-to-day administration. This makes it even better."
Users log in to a welcome page and can easily view the position of all their vessels, with the aid of an interactive map or via simple menus. This information is updated hourly. A sophisticated search function allows users to find a vessel via name or IMO number. Users can directly see under each vessel when something new has happened or new documents are available with the help of a notification.
The previous site allowed members to benchmark their vessels' performance and claims levels against similar fleets – and that capability has been advanced through the introduction of a 'heat map', showing where claims happen more frequently and also highlighting the particular member's current claims. The system provides an Advanced Claims Analysis offering smart analytics where members can do their analysis on their own claims or all claims of the Club.
Similarly, now that TELP is built into SCOL, users can access all TELP advice via a map; by simply clicking on the ship to receive all relevant information and alerts for the area, colour-coded depending on type. They can also now log in to SCOL and select specific vessels or individuals to whom TELP messages should be sent. This feature proved very popular with the Club's 'test pilots'.
Sanne Hauschildt, Managing Director, NSB Claim Solutions GmbH says: "The new TELP section works very well, wonderful feature!"
Latest News
(Posted on 31/03/23)
In line with Norden's 2023-2025 strategy to capitalise on the most attractive opportunities in... Read more
(Posted on 31/03/23)
American Bureau of Shipping, A.P. Moller - Maersk, Fleet Management Limited, Georgia Ports Authority... Read more
(Posted on 31/03/23)
Although news teams might have moved on to other locations and different crises, for those Turks and... Read more
(Posted on 28/03/23)
The board of Oldendorff Carriers, has appointed Patrick Hutchins as the new President and CEO of the... Read more
(Posted on 28/03/23)
The Swedish Club is looking to the future with the expansion and restructuring of the Club's management... Read more
(Posted on 24/03/23)
One Sea has welcomeed Finnish start-up Groke Technologies as its new member, bringing additional expertise... Read more
(Posted on 24/03/23)
ClassNK has released "FAQs on the EU-ETS for Shipping", an overview and necessary preparation... Read more
(Posted on 20/03/23)
AXSMarine, a pioneer and market leader in the provision of advanced solutions for shipping professionals... Read more
(Posted on 20/03/23)
Shipzero is enabling transport and logistics companies to create transparency about their emissions... Read more
(Posted on 07/03/23)
The Isle of Man Ship Registry (IOMSR) has become an associate member of The International Association... Read more