New ICS training resource to plug on board technology gap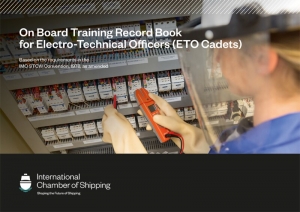 (Posted on 14/04/22)
The International Chamber of Shipping (ICS) has launched a new resource designed to help ship operators recruit and develop on board personnel who are fully prepared to meet the demands of today's high-tech modern vessels. The ICS On Board Training Record Book for Electro-Technical Officers (ETO Cadets) is an essential training companion for ETO cadets and their employers and gives seafarers operating under any flag a universally standard approach to track their training and career development.
According to the latest ICS BIMCO Seafarer Workforce Report, when recruiting STCW certified seafarers, companies reported the highest levels of difficulty in ETO roles. They also warned of a shortage of officers with technical experience, especially at management level. In addition, electro-technical officer cadets have the lowest graduation rate of all the officers (74.4%), and 70% of maritime education and training institutions saw a need for improving electrical, electronic and control engineering training provision.
The On Board Training Record Book for Electro-Technical Officers (ETO Cadets) helps shipowners and managers ensure compliance with STCW Convention regulations and helps ETO cadets understand the training required to develop their skills and competencies. Supervising officers can use the record book to make an objective evaluation of cadets' training, and it provides employers with the confidence that cadets are developing the correct knowledge needed to be successful in the role.
Gordon Boyd, Senior Lecturer and Chartered Electrical Engineer acting as consultant to South Shields Marine School was a member of ICS's expert group of reviewers. Gordon, who has developed and delivered electrical training courses for various major shipping companies and marine training providers including the Carnival group, BP and Shell, says:
"This record book and the systems to which it relates are essential for enhancement of technical progress, standardisation, and improvement of safety in the marine industry. It will help with consistency across marine electrical skill sets which will be beneficial to both employers and ETOs/electricians."
ICS Senior Adviser of Manning & Training, Arvind Natrajan, also comments: "It is only recently that such highly skilled seafarers are in great demand due to the increase in ships built with complex electrical and electronic systems. The training tasks in the new Training Record Book will ensure that cadets make the best use of their seagoing service by highlighting their strengths and identifying areas for further training."
The IMO STCW Convention requires that an ETO cadet's seagoing service must be properly structured and recorded in a training record book approved by the maritime administration responsible for issuing certificates of competence. It cites the ICS On Board Training Record Books as an example of such documentation. For further information on the new On Board Training Record Book for Electro-Technical Officers (ETO Cadets) please visit ICS Publications.
Latest News
(Posted on 03/12/23)
The Dry Bulk and LNG segments have borne the brunt of restricted transits, particularly due to their... Read more
(Posted on 03/12/23)
Columbia Shipmanagement (CSM) is set to further boost operational efficiency on its vessels, as crew... Read more
(Posted on 26/11/23)
Shi.E.L.D. Services has selected Spinergie as its preferred digitized solution provider to monitor and... Read more
(Posted on 26/11/23)
Thousands of cadets and trainees in India will benefit from in-depth wellness training and support thanks... Read more
(Posted on 17/11/23)
As shipping continues its journey to decarbonisation, INTERCARGO will host a special forum in Athens... Read more
(Posted on 13/11/23)
INTERCARGO was deeply saddened and concerned to hear of the reported appalling missile attack on the... Read more
(Posted on 13/11/23)
A new-look Wellness at Sea Awareness Campaign for seafarers, their families and shore staff that &ldquo... Read more
(Posted on 05/11/23)
Classification society DNV has entered into a Joint Development Project (JDP) with AL Group and its... Read more
(Posted on 31/10/23)
Samsung Heavy Industries (SHI) and leading classification society DNV have inked a Memorandum of Understanding... Read more
(Posted on 31/10/23)
WISTA International, during its Annual General Meeting (AGM) held in Montevideo, Uruguay, on 25 October... Read more