Shipping
(Posted on 16/08/18)
The CSL Group has released its 2017 Corporate Sustainability Report, detailing the company's progress over the past year on a wide range of sustainability goals.The report features CSL's sustainability performance for the 2017-18 fiscal year and covers results and ongoing initiatives in the areas of governance, safety...
(Posted on 16/08/18)
Seanergy Maritime Holdings Corp. has announced its financial results for the second quarter and six months ended June 30, 2018. For the quarter ended June 30, 2018, the Company generated net revenues of $16.8 million, an 8% decrease compared to the second quarter of 2017. For the six-month period ended June 30, 2018, net revenues...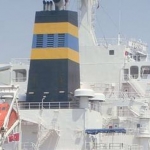 (Posted on 02/08/18)
Nasdaq-listed DryShips Inc. , a diversified owner and operator of ocean going cargo vessels, has announced its unaudited financial and operating results for the quarter ended June 30, 2018. The company, founded in 2004 by its current Chief Executive Officer, George Economou, has suspended its dividend, preferring instead to spend...
(Posted on 02/08/18)
Specialised international shipping law firm Campbell Johnston Clark (CJC) has announced new senior appointments to the Admiralty and Casualty teams in its London and Singapore offices. Paul Apostolis is joining CJC's Singapore office from HFW Singapore while Andrew Gray joins as a partner in London from Clyde &...
(Posted on 02/08/18)
Scorpio Bulkers Inc. has announced that the Company has received a commitment from ABN AMRO Bank N.V. and Norddeutsche Landesbank Girozentrale for a loan facility of up to $60.0 million. The loan facility will be used to finance up to 60% of the fair market value of two Ultramax dry bulk vessels (SBI Perseus and SBI Phoebe)...
(Posted on 02/08/18)
Diana Shipping Inc., a global shipping company specializing in the ownership of dry bulk vessels, has announced that, through a separate wholly-owned subsidiary, it has entered into a time charter contract with Koch Shipping Pte. Ltd., Singapore, for one of its Capesize dry bulk vessels, the m/v Seattle. The gross charter rate is...