Shipping
(Posted on 14/05/18)
ESL Shipping, Bore and Finnlines have jointly invest in the development of occupational safety training. The development program is supported by the insurance company Alandia, who support projects aiming to improve occupational safety.The target is to create an occupational health and safety training package consisting a familiarisation...
(Posted on 14/05/18)
The fourth annual The Maritime Standard Ship Finance and Trade Conference will take place in Abu Dhabi at the Sheraton Hotel & Resort, on Tuesday, November 6th.The theme of this year's conference is "Converting greater optimism into sustainable trade growth."The event starts with a keynote session, followed...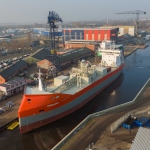 (Posted on 09/05/18)
SMT Shipping ("SMT") and The CSL Group ("CSL") have announced they have entered into an agreement for CSL to acquire 50% of Eureka Shipping Ltd. ("Eureka"), SMT's pneumatic cement vessel business.The new joint venture will allow Eureka and CSL to combine expertise, resources and innovative...
(Posted on 09/05/18)
Bulk carrier owners are warned to pay extra attention to the basics in a new report issued by The Swedish Club. The Club has found that for bulk carrier operators, wet damage is the most costly claim type and the second most common claim that they experience. The report, Wet Damage on Bulk Carriers, which has been prepared...
(Posted on 09/05/18)
Alfa Laval has signed fleet agreements with Polsteam and Nova Ship Tech SA for the supply of PureBallast 3, the third generation of Alfa Laval's ballast water treatment technology. Under the agreements, Alfa Laval will provide dozens of Polsteam and Nova Ship Tech SA vessels with PureBallast 3 systems – the vast majority...
(Posted on 09/05/18)
One of the challenges that navigating officers' face is a large number of ECDIS systems found on vessels, all with different user interfaces. However, on boarding vessels officers need to be able to competently use the ECDIS, as it could be their main source of navigation. In order to assist the shipping industry, Seagull...