Frank Tsao dies at 94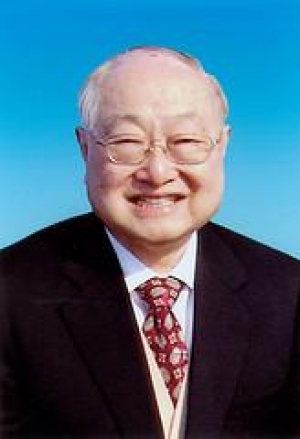 (Posted on 14/08/19)
Frank Tsao Wen-king, founder of International Maritime Carriers (IMC), has died peacefully with family members around him on 12 August. The much respected and acclaimed shipping veteran was 94 years old.
His success in dry bulker business early in his career meant that he was regarded as one of the four 'kings' of modern shipping in Hong Kong.
Born in Shanghai in 1925, Tsao was a graduate of Shanghai's St. John's University, He remained in close touch with his Chinese roots and was actively involved in developments in China.
Tsao started his career working in family-owned companies engaged in banking, transportation and international trade in Shanghai. He then ventured into shipping companies in Hong Kong, co-founding Great Southern Steamship Co. Ltd in 1949. In 1966, he established International Maritime Carriers (IMC) Ltd. in Hong Kong as a shipping company. It eventually grew into a substantial enterprise with ships transporting a wide range of commodities worldwide.
Tsao donated to universities for the advancement of maritime education, training and research and nurtured maritime talent through university scholarships in Dalian, Hong Kong, Qingdao, Shanghai and Zhoushan. He provided the financial resources for its academics and the maritime community. In 2006, the Dalian Provincial Government awarded him the title of "Honorary Citizen" in recognition of his support to its economy.
Throughout his long and illustrious career, Tsao played a pivotal role in shaping the growth of the maritime industry and in promoting maritime education and research in Asia. In Malaysia, he partnered the Malaysian Government in 1968 to help establish her first national shipping line – the Malaysian International Shipping Corporation Bhd. In 1973, His Majesty, the Yang di-Pertuan Agong (the Bahasa Malaysia term for "King") of Malaysia conferred upon Mr Tsao the title of "Tan Sri" in recognition of his many contributions to the country, including the assistance he provided and his investment in Malaysia's first shipyard, her first seamen's training institute and the modernisation of her maritime legal framework.
In 2005, Mr Tsao helped to establish the Centre for Maritime Studies at the National University of Singapore (NUS) and sat on the Board of Directors as Chairman. In 2007, he played a key role in establishing the permanent secretariat of the Asian Shipowners Forum (ASF) in Singapore.
He is also the first Asian recipient of the CMA Commodore Award from the Connecticut Maritime Association of the US in 2002. His important contributions to the maritime industry also won him other awards such as the Silver Bauhinia Star by the Hong Kong SAR Government in 2006 and Honorary Citizen Award by the Singapore Government.
Latest News
(Posted on 24/03/23)
One Sea has welcomeed Finnish start-up Groke Technologies as its new member, bringing additional expertise... Read more
(Posted on 24/03/23)
ClassNK has released "FAQs on the EU-ETS for Shipping", an overview and necessary preparation... Read more
(Posted on 20/03/23)
AXSMarine, a pioneer and market leader in the provision of advanced solutions for shipping professionals... Read more
(Posted on 20/03/23)
Shipzero is enabling transport and logistics companies to create transparency about their emissions... Read more
(Posted on 07/03/23)
The Isle of Man Ship Registry (IOMSR) has become an associate member of The International Association... Read more
(Posted on 07/03/23)
The wellbeing of crew members is becoming more important to shipping companies says leading catering... Read more
(Posted on 28/02/23)
Canada based Algoma Central Corporation has reported its results for the year ended 31 December, 2022... Read more
(Posted on 24/02/23)
Ukrainian seafarers have largely returned to international shipping thereby restoring balance in crew... Read more
(Posted on 24/02/23)
The Chairs of the Round Table of International Shipping Associations met in Athens last week to renew... Read more
(Posted on 21/02/23)
AXSMarine, a leading provider of SaaS shipping software and data for decision making in the chartering... Read more