Polsteam's latest bulker delivered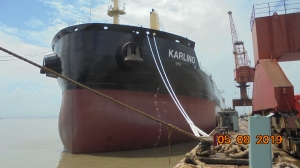 (Posted on 08/08/19)
Polska Zegluga Morska (Polsteam) has taken delivery of the bulk carrier M/V "Karlino" from the Chinese Yangfan Shipyard.
This is the latest vessel from the series of eight geared bulkers, of 39,000 DWT, initiated in 2016 by m/v "Armia Krajowa. Bulk carriers from this series have been sailing in the Polsteam fleet for several years with performance highly rated by shipowner and crew.
M/v "Karlino" is ship number 62 ship in the P?M fleet, of which 61 vessels (57 bulkers of handysize and panamax type and four ferries) are 100 percent owned by the shipowner.
On its maiden voyage M/V "Karlino" will sail with a steel loaded Chinese and Korean ports with destination ports in Costa Rica and Mexico. The ship is commanded by Capt. Pawel Wajgelt for this first voyage.
Polsteam is awaiting delivery of the last ship in this series - m/v "Sopot". The ship was launched at the beginning of August and finishing work is underway. M/v "Sopot" will be ready for delivery in September.
Polsteam is the largest Polish shipowner and one of the largest in Europe. The main sector of Polsteam's activity is the transport of bulk cargo such as coal, cereals, etc. in irregular shipping on a global scale.
Latest News
(Posted on 28/03/23)
The board of Oldendorff Carriers, has appointed Patrick Hutchins as the new President and CEO of the... Read more
(Posted on 28/03/23)
The Swedish Club is looking to the future with the expansion and restructuring of the Club's management... Read more
(Posted on 24/03/23)
One Sea has welcomeed Finnish start-up Groke Technologies as its new member, bringing additional expertise... Read more
(Posted on 24/03/23)
ClassNK has released "FAQs on the EU-ETS for Shipping", an overview and necessary preparation... Read more
(Posted on 20/03/23)
AXSMarine, a pioneer and market leader in the provision of advanced solutions for shipping professionals... Read more
(Posted on 20/03/23)
Shipzero is enabling transport and logistics companies to create transparency about their emissions... Read more
(Posted on 07/03/23)
The Isle of Man Ship Registry (IOMSR) has become an associate member of The International Association... Read more
(Posted on 07/03/23)
The wellbeing of crew members is becoming more important to shipping companies says leading catering... Read more
(Posted on 28/02/23)
Canada based Algoma Central Corporation has reported its results for the year ended 31 December, 2022... Read more
(Posted on 24/02/23)
Ukrainian seafarers have largely returned to international shipping thereby restoring balance in crew... Read more