Costamare diversifies into dry bulk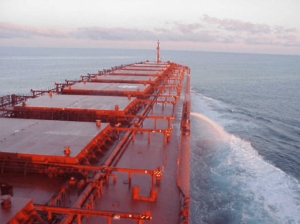 (Posted on 18/06/21)
Costamare Inc. has announced the acquisition of 16 dry bulk vessels of between 33,000 and 85,000 DWT, with an average age of 10 years. The vessels are currently operating in the spot market. Two of the ships have been delivered with the rest of the vessels expected to be delivered latest by January 2022.
Gregory Zikos, Chief Financial Officer of the Company, said: "We are pleased to announce the acquisition of dry bulk vessels. We have decided to invest in a liquid sector with strong fundamentals that provide enhanced return opportunities for our shareholders.
The ships will be managed through our existing platform headed and enriched by the dry bulk Onassis team, who will be joining Costamare in July. The acquisitions will initially be funded with cash on hand, and the Company is in the process of arranging commercial bank debt. Considering the nature of the dry bulk business, we plan to have low leverage of up to 60% of the value of the assets.
We look forward to providing a detailed update on our business strategy during our second quarter results."
Costamare is one of the world's leading owners and providers of containerships for charter. The Company has 47 years of history in the international shipping industry and a fleet of 81 containerships, with a total capacity of approximately 581,000 TEU and 16 dry bulk vessels with a total capacity of approximately 932,000 DWT.
Latest News
(Posted on 26/11/23)
Shi.E.L.D. Services has selected Spinergie as its preferred digitized solution provider to monitor and... Read more
(Posted on 26/11/23)
Thousands of cadets and trainees in India will benefit from in-depth wellness training and support thanks... Read more
(Posted on 17/11/23)
As shipping continues its journey to decarbonisation, INTERCARGO will host a special forum in Athens... Read more
(Posted on 13/11/23)
INTERCARGO was deeply saddened and concerned to hear of the reported appalling missile attack on the... Read more
(Posted on 13/11/23)
A new-look Wellness at Sea Awareness Campaign for seafarers, their families and shore staff that &ldquo... Read more
(Posted on 05/11/23)
Classification society DNV has entered into a Joint Development Project (JDP) with AL Group and its... Read more
(Posted on 31/10/23)
Samsung Heavy Industries (SHI) and leading classification society DNV have inked a Memorandum of Understanding... Read more
(Posted on 31/10/23)
WISTA International, during its Annual General Meeting (AGM) held in Montevideo, Uruguay, on 25 October... Read more
(Posted on 31/10/23)
Members of INTERCARGO met in Athens last week for the Association's Annual General Meeting, Executive... Read more
(Posted on 26/10/23)
The Columbia Group (Columbia) has opened a new manning agency, Columbia Shipmanagement Vietnam (CSM... Read more