Danica welcomes Russian seafarer vaccination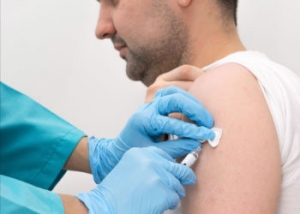 (Posted on 01/03/21)
Russia has now recognised seafarers as keyworkers and begun giving them Covid-19 vaccinations as a priority group, a move welcomed by Danica Crewing Services, a leading supplier Russian seafarers.
Danica Managing Director Henrik Jensen reports that Danica crew members are among the first to receive the vaccination in Saint Petersburg.
He commented: "We are delighted to have the first seafarers vaccinated. It is a major step forward to a return to normality for our industry. Vaccination eliminates the risks of our seafarers becoming infected by Covid-19 which will enable our seafarers to travel freely and cross borders."
Of the about 1500 seafarers deployed by Danica, some 500 are from Russia. Danica first established in Russia in 2015 and now has offices in Saint Petersburg, Vladivostok and Nakhodka, specialising in the supply of crew to Russian bulk carriers, tankers and LNG vessels.
Mr Jensen advised that all seafarers joining through Danica will be vaccinated – the next group of vaccinations will be carried out this Monday (March 1st).
Danica is a dedicated crewing service provider connecting demanding shipping companies with highly competent seafarers through trustworthy crewing services exceeding the highest industry standards.
Headquartered in Hamburg, the company has its own network of manning agencies across Eastern Europe. With the first office established in Odessa in 2009, Danica now also boasts offices in Saint Petersburg, Vladivostok and Nakhodka in Russia, and in Riga, Latvia. Presently, Danica deploys more than 1,400 seafarers to a wide range of international vessels owned by blue-chip ship owners.
Led by Founder and Managing Director Henrik Jensen, Danica connects vessel owners via a single point of contact to a large pool of competent officers and ratings. Ukraine is the world's third largest provider of ships' officers with some 36,000 experienced officers working for foreign shipowners and managers, while Russia is the fourth largest provider with 27,000 officers. The Baltic countries (Estonia, Latvia and Lithuania) boast a total of 12,000 officers.
Danica's high-quality and cost efficient crewing services range from the supply of highly competent crews on a single-position basis, to a full crew management solution by which it takes care of the full crew management of an entire fleet of vessels on a cost or fixed lump sum basis for the budget year.
Latest News
(Posted on 27/01/23)
ClassNK has issued an Approval in Principle (AiP) for a large ammonia fuelled 210,000 DWT bulk carrier... Read more
(Posted on 27/01/23)
Investors in middle aged dry bulk tonnage may be cheered by the impact of sustained higher recycled... Read more
(Posted on 27/01/23)
As one of the most important strategic maritime passages in the world, linking the Indian and Pacific... Read more
(Posted on 23/01/23)
OSM Maritime Group and Thome Group have agreed to a merger of the two companies. By joining forces,... Read more
(Posted on 23/01/23)
In a pivotal move aimed at further strengthening The Swedish Club's long-term position in the... Read more
(Posted on 16/01/23)
International crewing expert Danica Crewing Specialists now has a presence in Mumbai, boosting its recruitment... Read more
(Posted on 10/01/23)
Bahamas-based ship-management group Campbell Shipping has extended its relationship with Inmarsat, a... Read more
(Posted on 10/01/23)
AAL's scheduled monthly 'Asia to Australia West Coast Liner Service' (AUWC) recently... Read more
(Posted on 10/01/23)
Tindall Riley & Co Ltd./ the Managers of Britannia P&I announce that on 5 January 2023 it acquired... Read more
(Posted on 04/01/23)
The Swedish Club has welcomed in the New Year, when it formally greeted its incoming Managing Director... Read more