Volatility lifts derivative volumes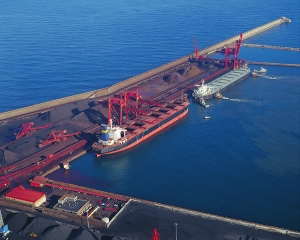 (Posted on 08/01/20)
The freight derivatives markets for both dry cargo vessels and tankers saw increased traded volumes in 2019 according to data released by the Baltic Exchange. Dry FFA volumes hit 1,632,773 lots, up 11% on 2018. One lot is defined as a day's hire of a vessel or 1000 metric tonnes of ocean transportation of cargo. Tanker Forward Freight Agreement (FFA) volumes were up 38% on the previous year, reaching 473,113 lots.
Baltic Exchange members are responsible for a large proportion of all dry cargo and tanker fixtures as well as the sale and purchase of merchant vessels.
Commenting on the figures, Baltic Exchange Chief Executive Mark Jackson said:
"2019 was another solid year for the freight derivatives market. Underpinning these volumes are both volatility in the freight markets and trust in the Baltic Exchange's settlement data. Last year both the dry bulk and tanker markets experienced big swings, with issues ranging from the Vale iron ore disaster, attacks on tanker shipping in the Middle East and IMO2020 impacting sentiment."
2019 also saw the emergence of the first FFA trades in the LNG market. Settled against the Baltic's recently launched suite of assessments for gas shipping,the first LNG swap took place in July, with cleared trades following at the end of 2019 and open interest building.
The Baltic Exchange is the world's only independent source of maritime market information for the trading and settlement of physical and derivative shipping contracts. Its international community of over 600 member firms encompasses the majority of world shipping interests.
The Baltic Exchange is headquartered in London, with regional offices in Singapore, Shanghai and Athens. In November 2016, the Baltic Exchange was acquired by Singapore Exchange, bringing together complementary strengths of Singapore and London, two of the world's most important maritime centres.
Latest News
(Posted on 31/03/23)
In line with Norden's 2023-2025 strategy to capitalise on the most attractive opportunities in... Read more
(Posted on 31/03/23)
American Bureau of Shipping, A.P. Moller - Maersk, Fleet Management Limited, Georgia Ports Authority... Read more
(Posted on 31/03/23)
Although news teams might have moved on to other locations and different crises, for those Turks and... Read more
(Posted on 28/03/23)
The board of Oldendorff Carriers, has appointed Patrick Hutchins as the new President and CEO of the... Read more
(Posted on 28/03/23)
The Swedish Club is looking to the future with the expansion and restructuring of the Club's management... Read more
(Posted on 24/03/23)
One Sea has welcomeed Finnish start-up Groke Technologies as its new member, bringing additional expertise... Read more
(Posted on 24/03/23)
ClassNK has released "FAQs on the EU-ETS for Shipping", an overview and necessary preparation... Read more
(Posted on 20/03/23)
AXSMarine, a pioneer and market leader in the provision of advanced solutions for shipping professionals... Read more
(Posted on 20/03/23)
Shipzero is enabling transport and logistics companies to create transparency about their emissions... Read more
(Posted on 07/03/23)
The Isle of Man Ship Registry (IOMSR) has become an associate member of The International Association... Read more