Crew plan needs government action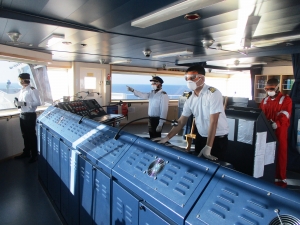 (Posted on 14/04/20)
Current coronavirus policy as applied to shipping is a potentially disastrous "own goal" that threatens not only the mental health and human rights of seafarers, but also the viability of ocean supply chains on which those in lockdown depend, according to an alliance of leading shipowners and managers.
At present, more than 100,000 seafarers are in effect marooned at sea because coronavirus shutdowns worldwide are preventing them from entering or transiting countries and/or finding flights on which to return home.
The alliance has developed port viability and detailed seafarer risk assessment plans which it is convinced will mitigate the risk of coronavirus infections during essential crew changeovers. It is now urging immediate governmental and inter-governmental action to enable the resumption of crew changes including the designation of seafarers as 'key workers'.
Captain Rajesh Unni, CEO and Founder of leading Singapore-based ship manager Synergy Group, commented: "We understand Covid-19 is a black swan event. But measures aimed at protecting society were never intended to prevent key workers from carrying out tasks essential to the ongoing wellbeing of society. These policies were also not intended to be detrimental to the welfare of key workers such as seafarers.
"Yet that is exactly what is now happening. Current policy represents a potentially disastrous own goal.
"Our collective aim as responsible owners and managers employing tens of thousands of seafarers is to pursue every means possible to get crew back to their families."
The 'who's who' alliance of like-minded shipping companies came together in response to the crew change crisis which has intensified as coronavirus has spread around the world.
The alliance now represents more than 1,500 vessels and over 70,000 seafarers and includes D/S Norden, Grieg Star, Reederei Nord, Dynacom, V.Group, Wilhelmsen Ships Service, Pacific Carriers Limited (PCL), Magsaysay, Augustea, Columbia Ship Management, Inchcape Shipping Services and Synergy Group.
Members believe collective crew changes at identified ports are a feasible short-term aim even in the midst of the coronavirus pandemic if State assistance is made available.
The alliance has identified key ports where collective crew changes can potentially be organised. The ports include Singapore, Houston, Rotterdam, Gibraltar, Jebel Ali, Fujairah, Hong Kong and Shanghai.
"As well as identifying ports we have also developed a rigorous risk assessment methodology and drawn up action plans that we, as employers of seafarers and organisers of crew logistics, can implement to mitigate the risks of infection," said Captain Unni.
"We are delighted to have the support of the International Chamber of Shipping and International Transport Workers' Federation. Governments must act and assign ports in proximity to suitable airports so that crew changes can be resumed.
"This really is a time bomb. It is imperative governments recognise this and take action."
The alliance is confident that collective crew changes can be managed at minimal risk. "Whilst we, as responsible owners and managers, would have to work on the micro level to deal with the logistics of transporting a seafarer from his home to the vessel and vice versa, matters such as access to airlines and airports and immigration clearances are political decisions," alliance members said a joint statement.
Latest News
(Posted on 27/01/23)
ClassNK has issued an Approval in Principle (AiP) for a large ammonia fuelled 210,000 DWT bulk carrier... Read more
(Posted on 27/01/23)
Investors in middle aged dry bulk tonnage may be cheered by the impact of sustained higher recycled... Read more
(Posted on 27/01/23)
As one of the most important strategic maritime passages in the world, linking the Indian and Pacific... Read more
(Posted on 23/01/23)
OSM Maritime Group and Thome Group have agreed to a merger of the two companies. By joining forces,... Read more
(Posted on 23/01/23)
In a pivotal move aimed at further strengthening The Swedish Club's long-term position in the... Read more
(Posted on 16/01/23)
International crewing expert Danica Crewing Specialists now has a presence in Mumbai, boosting its recruitment... Read more
(Posted on 10/01/23)
Bahamas-based ship-management group Campbell Shipping has extended its relationship with Inmarsat, a... Read more
(Posted on 10/01/23)
AAL's scheduled monthly 'Asia to Australia West Coast Liner Service' (AUWC) recently... Read more
(Posted on 10/01/23)
Tindall Riley & Co Ltd./ the Managers of Britannia P&I announce that on 5 January 2023 it acquired... Read more
(Posted on 04/01/23)
The Swedish Club has welcomed in the New Year, when it formally greeted its incoming Managing Director... Read more