Fleet leads Indian crew change scorecard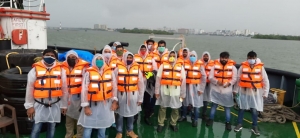 (Posted on 08/06/20)
As the world grapples with the vast scale and human impact of COVID-19, Fleet Management is leaving no
stone unturned in its crew change endeavours. To date, FLEET has arranged crew changes for over 432
seafarers across 34 vessels and 12 ports in India, the highest so far arranged by any ship manager after the
nationwide lockdown. This takes FLEET's tally to 1127 crew changes worldwide, which is among the highest in
the world, including 609 in China and 84 in the Philippines.
"As we navigate the global crisis, we never lose sight of the wellbeing of our seafarers," said Kishore
Rajvanshy, Managing Director, Fleet Management Limited. "While travel restrictions, border control and
quarantine measures are posing manifold logistical challenges on crew rotation, our crewing department is
working relentlessly to manage crew change as smoothly as possible."
Captain M S Nagarajan, Executive Director and Head of Crewing, Fleet Management Limited, said, "Managing
the end-to-end crew change in the wake of the pandemic is by no means an easy feat. However, our people
are putting their best efforts to work together with the shipping ministries, port authorities, local agents and
seafarers for seamless and safe changeovers. Medicals, coronavirus tests, lodging and land transits are being
arranged for seafarers when they are returning home or boarding a ship."
Captain Prashant Rangnekar, COO, Elegant Marine Services (FLEET's recruitment wing in India), said, "A
third of our seafarers are currently working at sea beyond their contractual lengths, but cannot return home due
to the travel restriction. This has a direct bearing on their mental wellbeing. To protect their mental wellness,
we have partnered with Sailor's Society to set up a Crisis Response Network (CRN). Seafarers can access the
CRN by calling 24/7 helpline on +1-202-931-5500 or through online chat via www.wellnessatsea.org/fleetmanagement
and get confidential advice, emotional support, psychotherapy and counselling."
To enable crew changes at foreign ports, FLEET will continue to explore possibilities of arranging charter
flights to take seafarers to ships around the world or bring them back home after sign-off.
With a 25-year history, 500+ vessels, 20,000+ qualified seafarers and 800+ shore employees, Fleet Management Limited
is one of the world's largest independent third-party ship management companies. For the last 25 years, FLEET has
pioneered many of the crewing, safety, and technical standards, which have become benchmarks in the industry.
Today, FLEET is the second largest Bulk carrier and Tanker manager, and fifth largest container manager in the world. In
the last 12 months, FLEET has helped carry 80 million tons of Bulk cargo on vessels ranging from Handy size to VLOCs
and cargoes ranging from iron ore to grain to nickel ore to windmills, steel and other project cargoes.
Latest News
(Posted on 03/12/23)
The Dry Bulk and LNG segments have borne the brunt of restricted transits, particularly due to their... Read more
(Posted on 03/12/23)
Columbia Shipmanagement (CSM) is set to further boost operational efficiency on its vessels, as crew... Read more
(Posted on 26/11/23)
Shi.E.L.D. Services has selected Spinergie as its preferred digitized solution provider to monitor and... Read more
(Posted on 26/11/23)
Thousands of cadets and trainees in India will benefit from in-depth wellness training and support thanks... Read more
(Posted on 17/11/23)
As shipping continues its journey to decarbonisation, INTERCARGO will host a special forum in Athens... Read more
(Posted on 13/11/23)
INTERCARGO was deeply saddened and concerned to hear of the reported appalling missile attack on the... Read more
(Posted on 13/11/23)
A new-look Wellness at Sea Awareness Campaign for seafarers, their families and shore staff that &ldquo... Read more
(Posted on 05/11/23)
Classification society DNV has entered into a Joint Development Project (JDP) with AL Group and its... Read more
(Posted on 31/10/23)
Samsung Heavy Industries (SHI) and leading classification society DNV have inked a Memorandum of Understanding... Read more
(Posted on 31/10/23)
WISTA International, during its Annual General Meeting (AGM) held in Montevideo, Uruguay, on 25 October... Read more