Clipper adds handysizes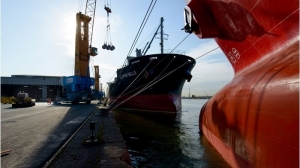 (Posted on 10/09/19)
Clipper Bulk, in close collaboration with a financial partner, has acquired three Handysize dry cargo vessels.
The acquisition involves: A 32,755 DWT carrier built in 2010, to be renamed Clipper Appollonia; A 32,691 DWT carrier built in 2010 to be renamed Clipper Aegina; A 32,535 DWT carrier built in 2010 to be renamed Clipper Alexandria
Clipper Bulk will take delivery of the three vessels during the next months.
Following these additions, Clipper Bulk now operates approximately 85 Handysize and Supramax vessels, including tonnage operated by the two Clipper Bulk-managed pools: the Clipper Handy Pool (28-38,000 dwt vessels incl. fully fitted loggers) and the Clipper Ultra Pool (64,000 dwt, grabs fitted vessels).
Clipper Group is a privately owned company, established in 1972 as a ship operator. Since then, the company has grown to become an industry leader in dry bulk with substantial investments in other shipping segments as well.
Latest News
(Posted on 31/03/23)
In line with Norden's 2023-2025 strategy to capitalise on the most attractive opportunities in... Read more
(Posted on 31/03/23)
American Bureau of Shipping, A.P. Moller - Maersk, Fleet Management Limited, Georgia Ports Authority... Read more
(Posted on 31/03/23)
Although news teams might have moved on to other locations and different crises, for those Turks and... Read more
(Posted on 28/03/23)
The board of Oldendorff Carriers, has appointed Patrick Hutchins as the new President and CEO of the... Read more
(Posted on 28/03/23)
The Swedish Club is looking to the future with the expansion and restructuring of the Club's management... Read more
(Posted on 24/03/23)
One Sea has welcomeed Finnish start-up Groke Technologies as its new member, bringing additional expertise... Read more
(Posted on 24/03/23)
ClassNK has released "FAQs on the EU-ETS for Shipping", an overview and necessary preparation... Read more
(Posted on 20/03/23)
AXSMarine, a pioneer and market leader in the provision of advanced solutions for shipping professionals... Read more
(Posted on 20/03/23)
Shipzero is enabling transport and logistics companies to create transparency about their emissions... Read more
(Posted on 07/03/23)
The Isle of Man Ship Registry (IOMSR) has become an associate member of The International Association... Read more