Synergy secures Oldendorff bulker management agreement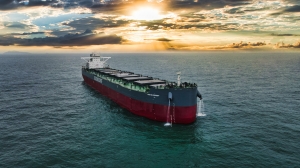 (Posted on 07/12/21)
Singapore headquartered Synergy Marine Germany GmbH, a subsidiary of the Synergy Group, has signed an agreement to manage part of the bulk carrier fleet owned by Oldendorff Carriers, one of Germany's foremost shipowners and one of the world's leading dry bulk operators.
Dexter Jeremiah, Managing Director Operations of Oldendorff Carriers, commented: "When we place our vessels with a third-party manager we only do so when we are confident they will deliver the benchmarked technical excellence that both Oldendorff and our customers expect. Synergy is renowned as a quality manager with a great safety and operations record.
"As we look ahead to the challenges facing shipping including decarbonisation and how to best implement the latest technology as shipping digitalises, we know Synergy will also be a fantastic technical thought partner."
The contract with Synergy Group commences with the full technical management of 17 Oldendorff bulk carriers comprising nine post-panamax vessels and eight 'babycapes'.
Synergy Group will provide full technical management services including the deployment of its innovative digital shipping platform, which ensures the real-time deployment of data to maximise operational efficiency, performance optimisation and vessel profitability.
Captain Rajesh Unni, Founder and CEO of Synergy Group, said: "Oldendorff Carriers is one of the great names of global shipping and we are honoured to be entrusted with the management of part of their fleet."
Synergy Group, one of the world's leading ship managers, now has a diversified maritime fleet under management of over 500 vessels. Its footprint comprises a network of 25 offices in 13 countries and the Group employs more than 18,000 seafarers.
William Wallace, Managing Director Fleet and Projects at Oldendorff Carriers, added: "Synergy Group is a leader at finding ways to reduce emissions and improving operations through the innovative deployment of technology. At Oldendorff, we see this type of transparent technical partnership model as very much a win-win."
Latest News
(Posted on 07/12/23)
ClassNK has issued Approvals in Principle (AiPs) for four cutting-edge ship designs developed by Marine... Read more
(Posted on 07/12/23)
A smartship partnership bringing together ship management company Laskaridis Shipping, digital technology... Read more
(Posted on 07/12/23)
ABB has launched a new digital tool allowing shipowners, operators and designers to estimate the emission... Read more
(Posted on 03/12/23)
The Dry Bulk and LNG segments have borne the brunt of restricted transits, particularly due to their... Read more
(Posted on 03/12/23)
Columbia Shipmanagement (CSM) is set to further boost operational efficiency on its vessels, as crew... Read more
(Posted on 26/11/23)
Shi.E.L.D. Services has selected Spinergie as its preferred digitized solution provider to monitor and... Read more
(Posted on 26/11/23)
Thousands of cadets and trainees in India will benefit from in-depth wellness training and support thanks... Read more
(Posted on 17/11/23)
As shipping continues its journey to decarbonisation, INTERCARGO will host a special forum in Athens... Read more
(Posted on 13/11/23)
INTERCARGO was deeply saddened and concerned to hear of the reported appalling missile attack on the... Read more
(Posted on 13/11/23)
A new-look Wellness at Sea Awareness Campaign for seafarers, their families and shore staff that &ldquo... Read more