INTERCARGO: Submission to IMO's MEPC 77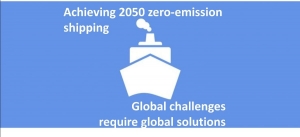 (Posted on 25/11/21)
At the International Maritime Organization's Marine Environment Protection Committee meeting this week (IMO's MEPC 77, 22-26 Nov. 2021), INTERCARGO said:
"Given the harsh realities and the tremendous challenges of decarbonisation and of the associated energy transition, from technological, economic, and societal points of view,
INTERCARGO fully supports the drive and the ambition to achieve zero emission shipping by 2050.
However, shipowners will only deliver such a target with a drastic and urgently needed acceleration in the commercial development of the required technologies, fuels, propulsion systems and related infrastructure.
IMO's MEPC 77 is the place for governments / Member States to take action and adopt the necessary measures:
1. In the short term, an immediate priority is the approval of the industry proposal for the "Establishment of an International Maritime Research and Development Board and an IMO Maritime Research Fund" – as set out in paper MEPC 77/7/6 cosponsored by INTERCARGO.
2. INTERCARGO has also, jointly with ICS, put forward a proposal for a global levy on carbon emissions from ships as a medium-term Market Based Measure, in order to accelerate the uptake and deployment of zero-carbon technologies and fuels – as set out in paper ISWG-GHG 10/5/2.
In conclusion, INTERCARGO supports the IMO in meeting the shared, global challenge of delivering on the shipping industry's decarbonisation agenda
and, in representing the dry bulk ship owners, managers and operators, invites IMO's MEPC 77 to take action as appropriate."
INTERCARGO (The International Association of Dry Cargo Shipowners) represents the interests of quality dry cargo shipowners.
Latest News
(Posted on 07/12/23)
ClassNK has issued Approvals in Principle (AiPs) for four cutting-edge ship designs developed by Marine... Read more
(Posted on 07/12/23)
A smartship partnership bringing together ship management company Laskaridis Shipping, digital technology... Read more
(Posted on 07/12/23)
ABB has launched a new digital tool allowing shipowners, operators and designers to estimate the emission... Read more
(Posted on 03/12/23)
The Dry Bulk and LNG segments have borne the brunt of restricted transits, particularly due to their... Read more
(Posted on 03/12/23)
Columbia Shipmanagement (CSM) is set to further boost operational efficiency on its vessels, as crew... Read more
(Posted on 26/11/23)
Shi.E.L.D. Services has selected Spinergie as its preferred digitized solution provider to monitor and... Read more
(Posted on 26/11/23)
Thousands of cadets and trainees in India will benefit from in-depth wellness training and support thanks... Read more
(Posted on 17/11/23)
As shipping continues its journey to decarbonisation, INTERCARGO will host a special forum in Athens... Read more
(Posted on 13/11/23)
INTERCARGO was deeply saddened and concerned to hear of the reported appalling missile attack on the... Read more
(Posted on 13/11/23)
A new-look Wellness at Sea Awareness Campaign for seafarers, their families and shore staff that &ldquo... Read more