Ports & Logistics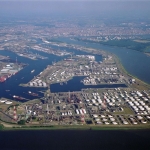 (Posted on 07/01/19)
2018 looks set to be a record year for the Port of Antwerp for the sixth time in a row, with growth in all types of cargo and a recent wave of investments. This confirms the port's attraction and further establishes its position as a world-class player that is also home to the largest integrated chemical cluster in Europe. Crucially...
(Posted on 07/01/19)
The Port of Newcastle has marked an important milestone in the development of the Newcastle Bulk Terminal. The dismantling of the old ship unloaders is now complete, with bulk cargo hoppers now in place to provide continuity of trade while the new ship unloader and conveyor system is constructed.The old ship unloaders at the...
(Posted on 07/01/19)
BPA Chief Executive Richard Ballantyne has outlined the Association's key priorities for 2019.The BPA is looking at challenges and opportunities facing UK ports beyond Brexit this year, although potential new border controls, changes to environmental and regulatory rules and a new fisheries policy remain as major themes for...
(Posted on 07/01/19)
Port of Hamburg Marketing (HHM)'s team of Volker and Kerstin Hahn in Dortmund is being reinforced by Markus Heinen. With this experienced marketing and network specialist, most recently fulfilling multiple functions as Regional Manager North/East for SPC Multimodal Transport Solutions in Bonn, HHM has already found a successor...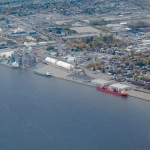 (Posted on 19/12/18)
The port authorities of Montreal and Trois-Rivières are pleased to announce the ratification of a first-ever Cooperation Agreement to improve and enhance their respective port services.Focused on sharing information and intelligence and exchanging best practices, the agreement signed between the two ports will ultimately...
(Posted on 19/12/18)
Hamburg, Germany's largest universal port contains over 75 terminals, handling over 18,000 ocean-going and inland waterway ships per year. For the Elbe and port pilots, the 65 percent increase in the number of calls by what are known as extraordinarily large vessels – German: AGFs – represents a challenge. Whereas...