Ports & Logistics
(Posted on 01/11/18)
The SAFIR consortium, a group of 13 public and private organisations, has been selected by Single European Sky ATM Research Joint Undertaking (SESAR JU) to demonstrate integrated Drone Traffic Management for a broad range of drone operations in Belgium. The goal of the SAFIR project is to contribute to the EU regulatory process...
(Posted on 01/11/18)
The MV Tasmanic Winter has finished its voyage from China to Rotterdam with 24 new vessels on board built at Damen yards in Changde and Yichang. In line with its standard practice, Damen is transporting these in batches to the Netherlands where most of them will be ready for sale to customers seeking the shortest possible delivery...
(Posted on 01/11/18)
The Port of Corpus Christi, Texas has appointed Clark Robertson as its Chief Operating Officer, a position last held by Chief Executive Officer Sean Strawbridge.Accomplished in industrial real estate acquisitions, economic development, transportation sales and marketing, Robertson has expertise in developing and leading results-...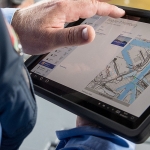 (Posted on 24/10/18)
Underwater drones, autonomous trucks and paperless Customs clearance – the future is already buzzing in the Port of Hamburg. The 'Digital Networking' conference run by Port of Hamburg Marketing (HHM) showed just how far the port has progressed. "In respect of digitalization, the Port of Hamburg is a worldwide...
(Posted on 24/10/18)
Metro Ports has announced the promotion of David Parrott to vice president of its operations for the U.S. Gulf Coast, East Coast and Great Lakes regions.In this position, Parrott will assume a more strategic role in charting the future of the company's terminals in Wilmington and Morehead City, N. C.; Burns Harbor, Ind.; Galveston...
(Posted on 24/10/18)
The European Sea Ports Organisation (ESPO) has presented its annual Environmental Report for 2018 at the GreenPort Congress in Valencia. The ESPO Environmental Report includes environmental performance benchmark indicators as well as the Top 10 Environmental Priorities of the European ports for 2018.Air quality has remained the...