Ports & Logistics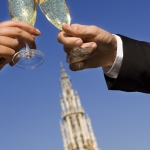 (Posted on 23/12/19)
In 2019 Port of Antwerp scored strong growth for the seventh year in a row, with the freight volume up 1.3% to 238 million tonnes. Although some segments are clearly under pressure due to economic reasons the port is making progress overall. But this progress is not just economic: in social terms the port is also making clear steps...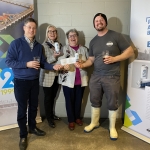 (Posted on 23/12/19)
Back in August, at the Port Day event at Mgr-Blanche wharf, the Port of Sept-Îles andMicrobrasserie La Compagnie proudly unveiled a brand new beer called "Pointe aux Basques." The new brew is the result of a joint initiative to mark the local port authority's 20th anniversary.The Port of Sept-Îles is...
(Posted on 23/12/19)
The Municipality of Rotterdam and the Port of Rotterdam Authority have started a trial to supply small sea-going vessels with electricity on Parkkade in the center of Rotterdam. The vessels will then not need to run their diesel generators to generate power for use on board, resulting in reduced air pollution and noise. The trial...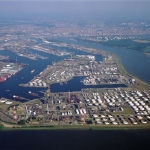 (Posted on 20/12/19)
Port of Antwerp is taking yet another important step in the transition to a sustainable, lower emissions port. Eight leading players in the port area – Air Liquide, BASF, Borealis, INEOS, ExxonMobil, Fluxys, Port of Antwerp and Total – have signed a collaboration agreement as a first move towards the possible development...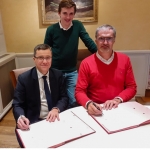 (Posted on 20/12/19)
MAHIEU CONSTRUCT SA, a Belgian company based in Comines (B), specialising in the design, manufacture and assembly of industrial and agricultural buildings made of steel frame or reinforced concrete, has signed a building lease for the occupation of land in the municipality of Loon-Plage with the President of the Executive Board...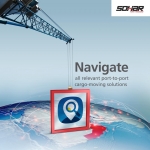 (Posted on 18/12/19)
With several developmental plans underway, including future projects, SOHAR Port and Freezone continues to seek possibilities for growth and expansion. In line with this principle, SOHAR is now looking forward to leasing out their Terminal 2D. The sizable land area was initially developed in 2009 as a container terminal expansion...