Ports & Logistics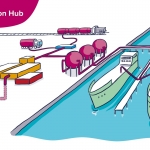 (Posted on 18/08/22)
Fluxys, ArcelorMittal Belgium and North Sea Port have started a feasibility study for the Ghent Carbon Hub project, an open-access CO2 storage and liquefaction hub in the Ghent part of North Sea Port.Besides the use of carbon-neutral energy, carbon capture, utilisation and storage (CCUS) is essential for CO2 intensive industries...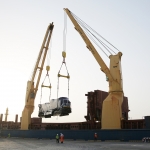 (Posted on 18/08/22)
Etihad Rail, the developer and operator of the UAE National Rail Network, has achieved a new milestone in the development of the National Rail Network, with the arrival of first batches of the company's new and advanced rolling stock fleet. The locomotives and wagons, which reached the UAE via Zayed and Al Musaffah Ports,...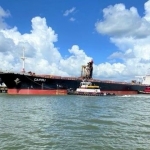 (Posted on 12/08/22)
T. Parker Host has announced the largest amount of cargo ever loaded on the Mississippi River on 6th August sailing from United Bulk Terminals and coordinated by Host Agency.The M/V Capri loaded over 134,000 metric tons of coal from Javelin Global Commodities, making this vessel the first to sail with a draft of 50 feet on the river...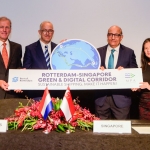 (Posted on 05/08/22)
An MoU signed by Ms. Quah Ley Hoon, Chief Executive of MPA, and Mr Allard Castelein, CEO of the Port of Rotterdam Authority at the Marina Bay Sands Convention Centre on the sidelines of the biennial World Cities Summit, will bring together stakeholders across the supply chain to realise the first sustainable vessels sailing on the...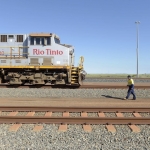 (Posted on 29/07/22)
The government of the Republic of Guinea, Winning Consortium Simandou (WCS) and Rio Tinto Simfer has incorporated the La Compagnie du TransGuinéen (The TransGuinean Company) to further progress plans to co-develop the multi-purpose and multi-user infrastructure for the Simandou iron ore project.The joint venture incorporation...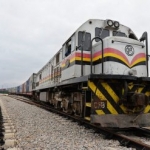 (Posted on 25/07/22)
The Ministry of Transport of the Government of Angola has announced the award of the concession tender for rail services and logistics support for the Lobito Corridor, a key route connecting mines in the Democratic Republic of the Congo (DRC) to the Lobito port in Angola and international markets beyond. The 30-year concession,...