Ports & Logistics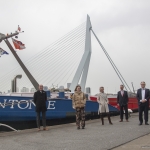 (Posted on 11/03/21)
Dutch Minister of transport Cora Van Nieuwenhuizen has visited Rotterdam to grant 4 million euros for the first hydrogen-powered cargo ship of Lenten Scheepvaart, a member of the inland shipping cooperative NPRC. This subsidy is an important step in the realization of this ship, which will be part of a salt transport shuttle for...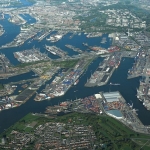 (Posted on 11/03/21)
The online publication of the Annual Report 2020 for the Port of Rotterdam Authority reveals that in a year when society at large was severely disrupted, the port of Rotterdam has confirmed its role as a reliable partner in the logistics chain by staying open 24/7. Goods volumes recovered in the second half year, limiting the decline...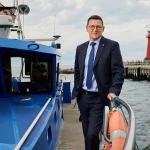 (Posted on 11/03/21)
The Port of Gdansk has overtaken Russia's Port of Primorsk to become the third-busiest port for cargo shipments in the Baltic Sea.Figures show the port handled a total of 4.6 million tons of cargo in January 2021, up 8.8 per cent year-on-year, moving the Port of Gdansk Authority into third place on the Baltic Sea podium.Russia...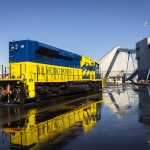 (Posted on 05/03/21)
Metro Ports, a leader in stevedoring services in the USA, has announced another step in its ongoing commitment to environmental excellence by purchasing a second, ultra-low emissions ("Tier 4") locomotive engine for its Pier "G" operations at the Port of Long Beach.Metro Ports is a brand composed of: Metropolitan...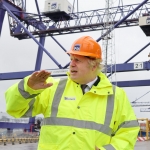 (Posted on 05/03/21)
PD Ports, one of the UK's major port groups, has welcomed UK Prime Minister, Boris Johnson and Chancellor, Rishi Sunak, to Teesport, the 5th largest port complex by tonnage and a piece of key UK national infrastructure, as the region continues to celebrate its successful freeport bid.During the visit, PD Ports CEO, Frans Calje...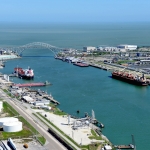 (Posted on 01/03/21)
The Port of Corpus Christi, the United States' largest energy export gateway, and the Port of Rotterdam, Europe's leading industrial deepsea port, have entered into a Memorandum of Understanding (MOU) that will allow the two global entities to collaboratively improve their global maritime operations.The two ports have outlined...