Bulk increases in North Sea Port's record year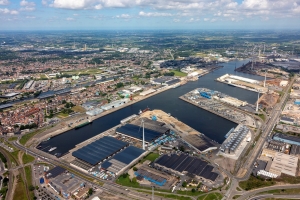 (Posted on 16/01/23)
With 73.6 million tons of cargo transhipment from maritime shipping (+7%) and 64.5 million tons from inland shipping (+7%) in 2022, companies in North Sea Port experienced their best year since the merger in 2018. Dry bulk continues to increase and the USA replaced Russia as the biggest trading partner.
Five years ago, Zeeland Sea Ports (Vlissingen and Terneuzen) in the Netherlands and the Flemish/Belgian Port of Ghent merged to form a single port. North Sea Port became the new brand name of the 60-kilometre-long cross-border Dutch-Flemish port. It instantly became one of Europe's top ten ports.
"Our aim was to grow in various areas to make sure we could maintain that position as a newly established port, and indeed to continue our development into a top European port. With a new record year since the merger five years ago, the companies in the port have further cemented that position. That's pretty remarkable after Brexit, two years of the pandemic, the impact of the Ukraine-Russia war and the energy crisis", points out North Sea Port CEO Daan Schalck.
In 2022, five years after the merger, North Sea Port posted the best year yet in its still fledgling history in terms of seaborne cargo transhipment: up 7%, a further 3% up on the previous record year of 2019. Imports increased by 6%, exports by 9%. The import-export ratio was 72%-28%.
Daan Schalck, CEO of North Sea Port said, "With another record year, North Sea Port is cementing its position as the number ten port in Europe. That's pretty remarkable after Brexit, two years of the pandemic, the impact of the Ukraine-Russia war and the energy crisis".
North Sea Port has traditionally been a real bulk port. Dry bulk continues to show marked growth, even compared to the pre-Covid period. Liquid bulk and general cargo remain below their pre-Covid levels.
Dry bulk again accounted for more than half of seaborne cargo transhipment in 2022: 54% (39.9 million tons, +10% compared to 2021). That growth came from commodities including oilseeds, crude iron, fertilizers and coal (+32%), for which additional stocks were built up due to EU sanctions in connection with the Ukraine-Russia war. Grain transhipment declined.
Liquid bulk accounted for 24% of the total in 2022 (17.6 million tons, +5%). The increase was particularly marked in the transhipment of biodiesel, diesel, liquid fertilizers and kerosene.
The share of break bulk was 14% (10 million tons, +5%). This increase is attributable to growth in the transhipment of steel plates and bananas (shift from containerised transport).
The roll on/roll off (ro/ro) segment grew by 5% (3.7 million tons, +2%). This rise was due to increased transportation of cars. The share of trailers remained the same.
Containers made up 3% of seaborne cargo transhipment (2.6 million tons, -9%; there was also a fall measured in TEUs, to 230,000 TEUs (-31,000 TEUs)). The reason for the decline was the reduced transportation of bananas in containers (shift to transportation as break bulk).
Broken down by commodity type, we see an increase in solid mineral fuels (including coal), petroleum and petroleum products, metal industry products, raw minerals and construction materials, fertilizers, vehicles and machinery. Agricultural products, food products, ores and metal residues and chemical products remained static.
Russia is no longer the most important trading partner in terms of seaborne cargo transhipment. With a 15% contraction (-0.9 million tons, total 5.4 million tons) as a result of EU sanctions, it fell back to second place, behind the United States, which saw a 27% growth (+1.3 million tons, total 6.3 million tons). The United Kingdom took third place (+4%, +0.2 million tons, total 5.2 million tons) followed by Brazil, Canada, Sweden, Norway, Spain and Finland, with France completing the top ten.
Latest News
(Posted on 31/03/23)
The Port of Long Beach and the Los Angeles/Orange Counties Building and Construction Trades Council... Read more
(Posted on 28/03/23)
Canadian Pacific has said that, on 14 April, 2023, it will exercise the authority granted by the U.S... Read more
(Posted on 24/03/23)
LOGISTEC Corporation, a leading marine and environmental services provider, has announced its financial... Read more
(Posted on 24/03/23)
Terence Bowles, President and CEO of the St. Lawrence Seaway Management Corporation (SLSMC), and Adam... Read more
(Posted on 20/03/23)
Abu Dhabi based AD Ports Group, the leading facilitator of global trade, logistics, and industry, has... Read more
(Posted on 20/03/23)
Grain handling at the Port of Immingham is increasing thanks to the new opportunities presented by investment... Read more
(Posted on 07/03/23)
Marcor Stevedoring has signed a contract adding Liebherr's largest and most powerful mobile harbour... Read more
(Posted on 07/03/23)
AD Ports Group, an Abu Dhabi based leading facilitator of global trade, logistics, and industry, and... Read more
(Posted on 02/03/23)
LOGISTEC Stevedoring Inc., a subsidiary of LOGISTEC Corporation, a leading North American marine and... Read more
(Posted on 28/02/23)
End-of-year figures for total traffic in the Spanish Port of Bilbao stand at 32.7 million tonnes, up... Read more