Ports & Logistics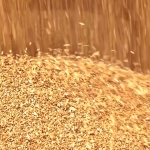 (Posted on 10/02/21)
A new grain unloading station will strengthen Rauma's grain traffic. During the autumn, Euroports and Suomen Viljava built a new unloading station in the Rauma port area. A long, continuous railway line and the cooperation of two experts in their respective fields ensure the cost-effective transport of grain from Russia to...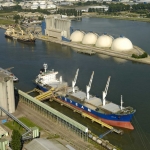 (Posted on 04/02/21)
In an extremely difficult global economic context, HAROPA ended 2020 with overall maritime and river traffic of 108 million tonnes, a figure down by 6% on 2019, testifying to high resilience and a definite recovery in the second half.HAROPA, the 5th largest port complex in Northern Europe, is a joint venture between the French ports...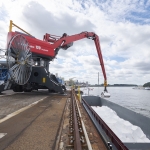 (Posted on 04/02/21)
In a joint project, Covestro and the logistics service provider Nederlandse Particuliere Rijnvaart Centrale Cooperative (NPRC) plan to convert the salt transport fleet on the Rhine to hydrogen powered ships.NPRC is a front runner in sustainable transportation. With 135 members, the cooperative generates revenue of 90 million per...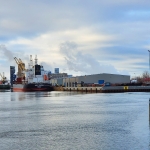 (Posted on 29/01/21)
In 2020, the Canadian Port of Trois-Rivières recorded a volume of goods handled totalling 3.3 million metric tonnes (MMT). Although this is down from the record year of 2019, it is in line with the average of the last five years and with the forecasts made by the Port of Trois-Rivières.Thus, the 2.9 MMT of dry bulk...
(Posted on 29/01/21)
The Port of Rotterdam and the construction industry are embracing digitisation at a rate of knots. Digitisation and automation allow collaboration in an increasingly complex environment. The precondition for digital collaboration between supply chain partners such as engineering firms and construction companies is that they all...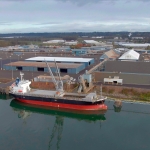 (Posted on 27/01/21)
The Port of Vancouver USA is seeking Statements of Interest (SOI) from parties interested in operating a high-volume marine export bulk facility at the port's Terminal 2, Berth 7 location.SOI submissions are due by 5 p.m. PST on Monday, March 12, 2021. To submit questions regarding this SOI, email port sales director, Brent...