Solid bulk increases by 14.5% as Bilbao maintains upward trend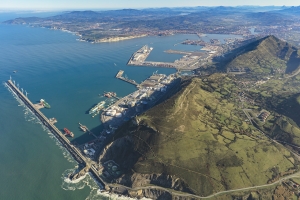 (Posted on 25/07/23)
Between January and June of this year, traffic through the Port of Bilbao increased by 3% compared to the same period last year. Throughput in tonnes amounted to 16.6 million, an increase of 450,000 tonnes.
In the middle of the Bay of Biscay, equidistant between Brest and Finisterre, the Port of Bilbao is central in the European Atlantic. For almost 700 years, this central location has made Bilbao a vital link with the main ports in both the American continent and the north of Europe.
Solid bulk increased by 14.5% within the category of dry cargo with overall figures for liquid bulk and dry cargo up by 3% and 2%, respectively. Containerised cargo was up 1% in terms of TEUs, whilst the volume of ro-ro freight increased by 2% in terms of UTIs (intermodal transport units). Conversely, conventional cargo, mainly steel products, fell by 6.5%.
In terms of types of goods, the biggest increases were in soya beans, cereals, biofuels, minerals, diesel, natural gas, coal and coke, petrol and machinery. Likewise, the 17% increase in fruit and vegetable traffic is what mostly accounts for the 29% increase in reefer containers (refrigerated goods). Figures fell mainly for fuel oil, crude oil, chemicals and steel products.
Throughput of special transport for loading purposes increased by 22%. The number of vessels / calls also rose by 5.4%, as did their size, with a growth of 8.5% in GTs (Gross Tonnage, a measure of vessel capacity). In total, 1,361 vessels of all types and sizes called at the port in this six-month period.
The main markets have been the United States, Russia, Brazil, the United Kingdom and Mexico. 40% of traffic through the port of Bilbao is attributable to imports and exports with Atlantic European countries, 19% with North Atlantic America, 8% with South Atlantic America, a further 8% with Atlantic Africa, 6% with Asia Pacific and a further 6% with Indian Asia. These data once again effectively confirm that Bilbao is a multi-purpose port for both short-sea and transoceanic traffic.
The Port of Bilbao works with all classes of goods and vessels. It is open and operative 24 hours a day, every day of the year and has no problems of drafts or tides. The Port's influence stretches to the Iberian Peninsula and into the south of France – a vast area whose epicentre is in the metropolitan area of Bilbao.
Latest News
(Posted on 07/12/23)
US Port owners should start immediate planning to take advantage of the $3bn available in grants as... Read more
(Posted on 07/12/23)
The Vancouver Fraser Port Authority's board of directors has announced that it has appointed Peter... Read more
(Posted on 03/12/23)
In the presence of Kassym-Jomart Tokayev, President of the Republic of Kazakhstan, AD Ports Group, a... Read more
(Posted on 03/12/23)
Lhyfe, a global pioneer in the production of renewable green hydrogen for transportation and industrial... Read more
(Posted on 26/11/23)
A 194 million euro investment in North Sea Port will secure large-scale CO2 reduction by the largest... Read more
(Posted on 17/11/23)
The Central Association of German Seaport Operators (ZDS) has called for a decisive German port policy... Read more
(Posted on 13/11/23)
A groundbreaking feasibility study has highlighted the potential for using clean ammonia to refuel ships... Read more
(Posted on 05/11/23)
IAPH has announced the ratification by the IAPH Council of the new IAPH Board. The Board is formed by... Read more
(Posted on 05/11/23)
CN has announced that it acquired from Genesee & Wyoming Inc., a stake in the Cape Breton &... Read more
(Posted on 31/10/23)
Due to continued very high inflation, the Hamburg Port Authority (HPA) will raise port fees by an average... Read more