Ports & Logistics
(Posted on 08/05/19)
The Trois-Rivières Port Authority (TRPA) held its annual general meeting recently, which provided an opportunity to report exceptional results for 2018. Over the past year, the Port accommodated 256 vessels, including 24 cruise ships, and set a new handling record of 3.9 million metric tonnes of cargo, bringing its net income...
(Posted on 08/05/19)
Laurent FOLOPPE has been appointed as Commercial and Marketing Director for HAROPA. Within the scope of his new functions, he will propose and implement the sales and marketing strategy to develop HAROPA national and international port trades. HAROPA, the 5th largest port complex in Northern Europe, is a joint venture between...
(Posted on 08/05/19)
T. Parker Host has announced a new management incentive programme, awarding packages to over 30 employees in its first round of grants.T. Parker Host is a total solutions provider for the maritime industry, specializing in agency, terminal operations, and marine assets."Our team members are the key to Host's success...
(Posted on 08/05/19)
Clean Shipping Alliance 2020 (CSA 2020) has received written approvals and no-objection letters from several Port Authorities around the world indicating they have no intention of banning the use of open-loop scrubbers in their waters.Following successful meetings between port officials and CSA 2020 Executive Committee members,...
(Posted on 08/05/19)
Port Milwaukee will accept the Robert J. Lewis Pacesetter Award on Wednesday from the Saint Lawrence Seaway Development Corporation, an operating administration of the U.S. Department of Transportation. Deputy Administrator Craig Middlebrook will make the presentation during a luncheon ceremony at the Wisconsin International Trade...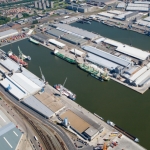 (Posted on 29/04/19)
Troughput of fertilisers at the Port of Antwerp has made a strong recovery in March, with the best monthly figures for the commodity since February 2011. This was despite overall volumes for bulk cargoes, including fertilizers being down for the full first quarter of 2019.During the past quarter, the total maritime cargo turnover...