Ports & Logistics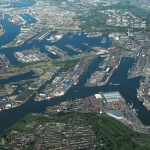 (Posted on 27/11/18)
REKO, short for Recycling Kombinatie REKO B.V., has started construction on a new thermal treatment plant that will process an annual total of 1.2 million tonnes of residual mineral waste – a mix of tar asphalt granulates and roofpaper – into clean sand, gravel, electricity and heat. The project, which will be realised...
(Posted on 27/11/18)
In the first nine months of the year, the Port of Hamburg transferred substantially more freight on to rail - Seaborne cargo handling was below the previous year's level, owing to less bulk cargo and a slight downturn in container handling, while there was an increase for conventional general cargo In the Port of Hamburg...
(Posted on 27/11/18)
The Vancouver Fraser Port Authority has approved a permit application from Fraser Grain Terminal to develop a grain export facility in Surrey on federal lands managed by the Vancouver Fraser Port Authority.The approval is subject to 64 permit conditions that must be met to ensure the project is constructed safely, protects the environment...
(Posted on 27/11/18)
PD Ports is celebrating the fourth anniversary of Teesport Intermodal Rail Terminal, which has cemented the port and the wider Tees Valley region as a truly global gateway to the UK since opening on the 15th November 2014.Seeing considerable growth in containers year-on-year, PD Ports launched the £3M Teesport Intermodal Rail...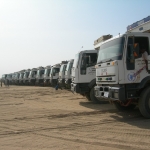 (Posted on 15/11/18)
Last month was an exciting time for the IMGS team who had a very challenging assignment with the World Food Programme (the food-assistance branch of the United Nations) in Guinea-Bissau, West Africa. IMGS supervised and executed a massive logistics operation that saw the discharge of a very large quantity of Bagged Rice for...
(Posted on 15/11/18)
A collaboration agreement has been signed in the port of Antwerp between on the one hand Antwerp Port Authority and its consultancy and investment subsidiary Port of Antwerp International (PAI) and on the other Enabel, the Belgian development agency. The aim of the agreement is to combine forces with a view to further sustainable...