Ports & Logistics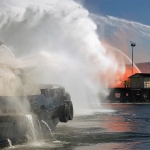 (Posted on 18/06/18)
A fire in the hold of a CSL bulker closed Port Kembla for eight hours on Monday.Located on the east coast of New South Wales, historically Port Kembla has serviced the needs of regional industries, predominantly coal (export) and steel (import of raw materials and steel products). In more recent years the port has diversified its...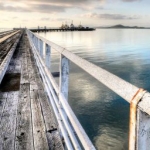 (Posted on 15/06/18)
Maintenance works are set to begin on the Bowen Wharf. North Queensland Bulk Ports Corporation (NQBP) acting CEO Rochelle Macdonald said the works included repairs to cracked concrete slab sections and some of the timber decking structure and the removal of deteriorated timber fender piles.Weipa, Abbot Point, Mackay and Hay Point...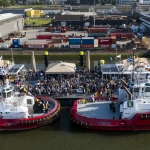 (Posted on 15/06/18)
The naming ceremony of the newly-built Damen tugs Rotterdam and Beagle took place this week in the Port of Rotterdam, during Kotug Smit Towage's annual 'Maatjes-party' (Herring with friends, a traditional Dutch event to mark the beginning of the herring season).Damen Shipyards Group operates 34 shipbuilding and...
(Posted on 15/06/18)
Project EMMA, funded by the Interreg Baltic Sea Region Programme 2014–2020, has actively contributed to raising the awareness of the potential of inland navigation and giving inland waterway transport a stronger voice and better standing in policy and society. Several actions to develop inland shipping have recently taken...
(Posted on 15/06/18)
The British Ports Association has welcomed the publication of the temporary customs arrangement, known as the 'customs backstop'.Commenting on the development, the BPA Chief Executive, Richard Ballantyne, said: "This arrangement will give ports and freight operators a measure of short-term certainty. It is now...
(Posted on 15/06/18)
In line with the commitments of the PA2D (Sustainable Development and Action Plan), Dunkerque-Port has received the EcoPorts network's PERS certification (Port Environmental Review System), granted by the ESPO (European Sea Ports Organisation).This environmental management certification, specific to the port sector, attests to correct...