Ports & Logistics
(Posted on 27/06/18)
Euroports has increased its paper and pulp storage capacity in the port of Tarragona, Spain by 25%, bringing its total pulp and paper storage capacity at this terminal to 30,000 square meters. Euroports' bonded terminal has a dust-free area, a terminal length of about 300 meters and 16.5 meters draft.With its 10 forest products...
(Posted on 27/06/18)
With the presentation of the RSD Tug 2513, on the 25th June at the ITS 2018 in Marseille, France, Damen has introduced its next generation ship-handling tugs. Composed of a mix of new designs and a further evolution of existing designs, this next generation series is built on a solid foundation. New and proven technologies are combined...
(Posted on 27/06/18)
As one of the UK's major port operators and logistics specialists, PD Ports has been a strong advocate of the value employing former military workers brings to the business, with around 8% of its 1,200 workforce being service veterans and reservists.Russ McCallion, PD Ports' HR Director, said: "The wealth of transferable...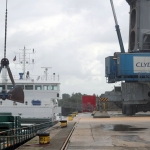 (Posted on 21/06/18)
The first agri-bulk vessel for global animal feed trader ADM Arkady arrived at Peel Ports' King George V Dock this week, containing more than 4,000 tonnes of animal feed.The arrival of Arklow Ruler at the Glasgow-based port, marks a significant first milestone in the long-term contract between Peel Ports and the supply chain...
(Posted on 21/06/18)
With its 10 forest products terminals in five countries (Belgium, Finland, Germany, Spain and China), Euroports is considered a major player in providing maritime supply chain solutions to the pulp and paper industry. One of the company's focus areas for growth in this industry is its forest products terminal in the port of...
(Posted on 21/06/18)
The Port of Trois-Rivières, the City of Trois-Rivières and Innovation et développement économique Trois-Rivières in Canada have hosted an international delegation of nearly 100 participants on 14th June. This event was organised as part of the International Association of Cities and Ports 16th...