Ports & Logistics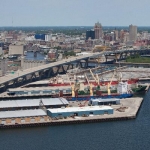 (Posted on 03/12/18)
The Wisconsin Department of Transportation has awarded a grant of approximately $3-million to Port Milwaukee to upgrade railroad track on Jones Island. The money, from the State's Freight Railroad Preservation Programme, will be combined with a previously budgeted 20% match from Port Milwaukee in order to complete work valued...
(Posted on 03/12/18)
Pilbara Ports Authority (PPA) has delivered a total monthly throughput of 57.3 million tonnes (Mt) for the month of October 2018. This throughput was in-line with the same month in 2017. The Port of Port Hedland achieved a monthly throughput of 40.8Mt, of which 40.1Mt was iron ore exports. These volumes were a slight decrease of...
(Posted on 03/12/18)
This year the Port of Riga has experienced a significant increase of timber cargo, which has become the second largest group of cargo in terms of volume. During the first ten months of this year the port has handled a total of 4.4 million tonnes of various types of timber cargo, one third more than in the previous year.Riga is the...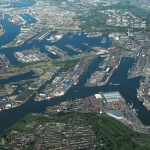 (Posted on 27/11/18)
REKO, short for Recycling Kombinatie REKO B.V., has started construction on a new thermal treatment plant that will process an annual total of 1.2 million tonnes of residual mineral waste – a mix of tar asphalt granulates and roofpaper – into clean sand, gravel, electricity and heat. The project, which will be realised...
(Posted on 27/11/18)
In the first nine months of the year, the Port of Hamburg transferred substantially more freight on to rail - Seaborne cargo handling was below the previous year's level, owing to less bulk cargo and a slight downturn in container handling, while there was an increase for conventional general cargo In the Port of Hamburg...
(Posted on 27/11/18)
The Vancouver Fraser Port Authority has approved a permit application from Fraser Grain Terminal to develop a grain export facility in Surrey on federal lands managed by the Vancouver Fraser Port Authority.The approval is subject to 64 permit conditions that must be met to ensure the project is constructed safely, protects the environment...