Ports & Logistics
(Posted on 28/09/18)
ESPO welcomes the Commission's proposal for a Regulation establishing a European Maritime Single Window environment (COM2018 278 final). The European Sea Ports Organisation is the principal interface between European seaports and the European institutions and its policy makers. For European ports though...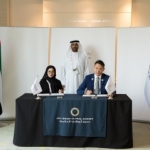 (Posted on 20/09/18)
Maqta Gateway, an Abu Dhabi Ports subsidiary, and Abu Dhabi Global Market have signed a Memorandum of Understanding (MoU) to collaborate on innovation projects, technologies and knowledge transfer. The signing took place on the side-lines of the FinTech Abu Dhabi 2018, one of the leading FinTech events in the MENA region which is...
(Posted on 20/09/18)
New trucks entering service at the Port of Long Beach and the Port of Los Angeles as of 1 October, 2018, must be model year 2014 or newer, as the San Pedro Bay ports move forward with efforts to improve air quality and reduce the health impacts of air pollution. As part of the Clean Trucks Program, all trucks going into marine...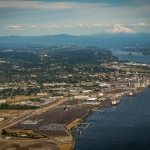 (Posted on 14/09/18)
The Port of Vancouver USA Board of Commissioners have unanimously approved the port's 2018 Strategic Plan. The new plan includes a new vision statement and outlines 20 goals and 66 strategies to guide the port's activities and budget for the next decade.The Port of Vancouver USA is one of the major ports on the ...
(Posted on 14/09/18)
Pilbara Ports Authority has announced another shipping record as part of its August 2018 shipping figures. A new 24 hour throughput record was recorded over two tides and 14 vessels, on 22 and 23 August 2018. The new record of 2,478,219 tonnes was 79,796 tonnes more than the previous record of 2,398,423 tonnes, recorded on...
(Posted on 14/09/18)
The Port of Rotterdam Authority has announced the launch of the World Ports Climate Action Programme. In this new international initiative, the port authorities of Hamburg, Barcelona, Antwerp, Los Angeles, Long Beach, Vancouver and Rotterdam will be joining forces and working together on a number of projects that address the issue...