Ports & Logistics
(Posted on 15/11/18)
The Port of Newcastle, Australia has welcomed two new senior executives. Tanya McDonald has commenced in the role of Executive Manager Corporate Affairs and Trent Gearside has joined the team in the role of Executive Manager Projects & Infrastructure.Tanya brings significant experience as a senior executive in the Queensland...
(Posted on 15/11/18)
For the second consecutive year, the Port of Long Beach has broken its October record for cargo, as volumes rose 5.4 percent compared to the same month in 2017. October 2018 was also the third-busiest month in the Port's 107-year history.Port of Long Beach Executive Director Mario Cordero said the results illustrate the evolving...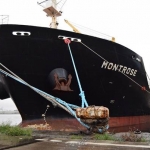 (Posted on 09/11/18)
ABP's Port of Immingham has welcomed a substantial quantity of high-grade fertiliser for distribution to farmers across the country, from one of their oldest customers. International grain, fertiliser and seed merchant Gleadell Agriculture has been importing and exporting a range of agribulk products at Immingham since the...
(Posted on 09/11/18)
A vision for inland waterway transport (IWT) in the Baltic Sea Region as well as means to strengthen inland shipping were highlighted in Brussels this week, when about 90 participants from around the Baltic Sea Region (BSR) gathered to discuss the future of inland waterway transport to the final conference of project EMMA...
(Posted on 09/11/18)
The event, organised by Port Authority of Bilbao and AZTI, is aimed at port-sector companies and technological and training centres wishing to know the application of the challenges this convention representsOn 10 December, the Port of Bilbao will host the second RETOLASTRE conference on the "International Ballast Water Convention...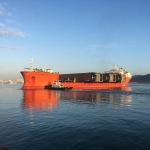 (Posted on 01/11/18)
The gates of the new sea lock at IJmuiden are on their way to the Netherlands. The gates left South Korea by ship this week. They are expected to be underway for about two months.Ijmuiden is located at the mouth of the North Sea Canal to Amsterdam, the second largest coal and agribulk transhipment port in Europe and world'...