Ports & Logistics
(Posted on 04/07/19)
Pilbara Ports Authority is celebrating five years of achievements. On 1 July 2014, the former port authorities of Dampier and Port Hedland successfully amalgamated to form Pilbara Ports Authority, the world's largest bulk export port authority.Highlights and achievements across the past five years include:Total throughput...
(Posted on 04/07/19)
Research and production corporation United Wagon Company and a leasing company UniCredit Leasing have signed a contract for the supply of 50 platforms for timber. The freight cars will operate in the fleet of Luzales, one of the largest logging companies in the Komi Republic.30 model 13-6895 cars will be delivered to the customer...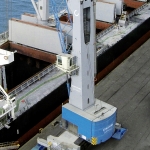 (Posted on 27/06/19)
HES Gdynia Bulk Terminal SP (HES Gdynia), on the north coast Poland, has ordered an eco-efficient Konecranes Gottwald Model 6 Mobile Harbour Crane for continuous-duty bulk handling. The crane will be pre-commissioned and handed over by the end of 2019. HES Gdynia Bulk Terminal is part of HES International, one of Europe...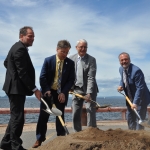 (Posted on 27/06/19)
The Port of Sept-Îles has welcomed announcements confirming that two levels of government will participate in equal measure to modernise the Pointe-aux-Basques Terminal, for a total investment of more than $13.3 million, or two-thirds of the estimated total cost of $20 million.The Port of Sept-Îles is North America&rsquo...
(Posted on 27/06/19)
American Association of Port Authorities (AAPA) announced this week that Port Milwaukee earned its 2019 Overall Award of Communications Excellence. The honour is based on Port Milwaukee's "exemplary communications projects and programs" among ports with marketing budgets of less than $300,000 annually."The...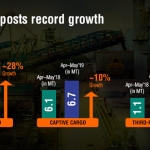 (Posted on 21/06/19)
Essar's Ports business, which operates four terminals on the east and west coasts of India, has registered a 28 percent growth in cargo volumes in the first two months of the current financial year (April-May 2019), with a throughput of 9.2 MT (million tonnes).The growth has been driven by a 127 percent increase in third-party...