Ports & Logistics
(Posted on 18/04/19)
In the first quarter of 2019, 5.1% more freight passed through the Port of Rotterdam than in the same period last year. In total, 123.9 million tonnes were handled compared with 117.8 million tonnes in the same period in 2018. The increase mainly concerned the throughput of containers (+7.3% in TEU, +5.9% in tonnes) and fuels. Mineral...
(Posted on 18/04/19)
The Supervisory Board of the Port of Le Havre which met on 26 March 2019 has welcomed the good financial results for 2018, which demonstrate a significant improvement in the port's situation and the restoration of its internal financing capacity. The balance sheet allows the port to carry out the ambitious investment programme voted...
(Posted on 18/04/19)
Preparations for the 6th Annual Maritime Standard Awards are now well underway. It has been confirmed that The Maritime Standard Awards will again this year take place at the Atlantis, The Palm, Dubai on Monday 21st October 2019.A glittering, high quality occasion, attended by key decision makers from across the Middle East and...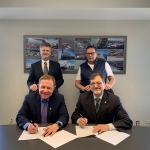 (Posted on 08/04/19)
The Port of Trois-Rivières and the Ports of MulhouseRhin recently signed a collaboration agreement focussed on best operational and business development practices, thus increasing opportunities for all parties. More specifically, below are the four key areas of cooperation: - Port governance - Trade promotion - Sharing innovation...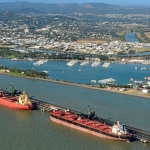 (Posted on 08/04/19)
Gladstone Ports Corporation (GPC) Australia is progressing with its vision to extend the community's foreshore access through the construction of East Shores Stage 1B.The Port of Gladstone is one of Australia's finest natural deep-water harbours. The Port is Queensland's largest multi-commodity port, handling over 30...
(Posted on 08/04/19)
The ports of Long Beach and Los Angeles have released a final report on the feasibility of deploying clean truck technology to begin meeting the ambitious zero-emissions goals set by the Clean Air Action Plan (CAAP).The Ports released a draft assessment in December. It examined the current state of technology, operational characteristics...