Major Milwaukee leases to bring new business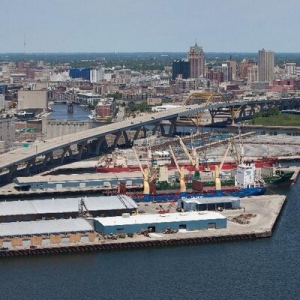 (Posted on 10/08/20)
Two significant new projects are taking steps forward as Milwaukee Port's Board of Harbor Commissioners considers new long-term leases with The DeLong Co. and with Michels Corporation.
Located on Lake Michigan, Milwaukee's primary cargoes, include salt, cement, agricultural products and other dry bulks.
"These leases affirm Port Milwaukee's role in advancing economic activity and providing multimodal connectivity in the city and throughout the region," Port Director Adam Tindall-Schlicht said. "In a time of economic uncertainty, these companies are investing, creating jobs, and choosing the Port as the place to expand operations."
The DeLong Co. project is one of the largest investments ever made at Port Milwaukee. The company plans a new maritime export facility that will handle agricultural commodities, including an animal feed byproduct of the ethanol production process. The company is pairing its own $6.2-million investment at the Port with previously announced federal and state grants for a total capital investment of more than $30-million.
The DeLong facility will be built on Jones Island on 3.9 acres along the inner harbour. The terms of the 30-year lease include annual rent payments of approximately $30-thousand per acre.
Michels is finalizing terms on a 99-year lease for expanded Milwaukee operations including new jobs on 13.5-acres at the Port's Grand Trunk site. The company already leases a smaller portion of the site, and this new agreement includes rent of approximately $17.8-thousand per acre annually. Michels will operate alongside the Bay View wetland restoration project underway on the Grand Trunk site.
Michels' new lease follows a competitive request-for-proposals process, and the lease increases its Milwaukee footprint which already includes the R1ver campus under development a short distance up the Kinnickinnic River.
If accepted by the Commissioners, the leases will be considered by the Common Council for approval.
Port Milwaukee is an economic entity of City government governed by the seven-member Board of Harbor Commissioners, a panel appointed by Mayor Tom Barrett and confirmed by the Common Council.
Latest News
(Posted on 26/11/23)
A 194 million euro investment in North Sea Port will secure large-scale CO2 reduction by the largest... Read more
(Posted on 17/11/23)
The Central Association of German Seaport Operators (ZDS) has called for a decisive German port policy... Read more
(Posted on 13/11/23)
A groundbreaking feasibility study has highlighted the potential for using clean ammonia to refuel ships... Read more
(Posted on 05/11/23)
IAPH has announced the ratification by the IAPH Council of the new IAPH Board. The Board is formed by... Read more
(Posted on 05/11/23)
CN has announced that it acquired from Genesee & Wyoming Inc., a stake in the Cape Breton &... Read more
(Posted on 31/10/23)
Due to continued very high inflation, the Hamburg Port Authority (HPA) will raise port fees by an average... Read more
(Posted on 31/10/23)
The UK's leading ports group, Associated British Ports (ABP), has appointed Jeff Gibb as Lead... Read more
(Posted on 26/10/23)
In the first nine months of 2023, there was 6% less throughput in the port of Rotterdam: 329.9 million... Read more
(Posted on 26/10/23)
After nine months, the total throughput of Port of Antwerp-Bruges was 204.4 million tonnes, a drop of... Read more
(Posted on 19/10/23)
LOGISTEC Corporation have announced that it has entered into an arrangement agreement with 1443373... Read more