Ports & Logistics
(Posted on 12/02/19)
Work is set to begin on the final stage of the $120 million Channel Risk and Optimisation Project (CROP) at the Port of Port Hedland in April, with a dredging company appointed to undertake the work.The project will deliver a refuge zone and an emergency passing lane to the 42 kilometre unidirectional shipping channel, as well as...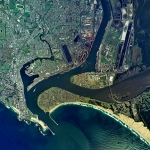 (Posted on 31/01/19)
The Port of Newcastle, Australia, recorded another solid year of trade in 2018 with the Hunter's construction boom and business investment helping drive growth in related cargoes. The port handled 280,000 tonnes of cement in 2018, up almost 11% year-on-year, amid record construction in Newcastle and strong growth in surrounding...
(Posted on 31/01/19)
The Port of Sept-Îles, Canada, has announced an increase of 4.7% in volume handled over last year at 25,375,000 tons this year, compared to last year's 24,231,000 tons. The startup of operations at the multi-user dock accounted for the entire increase, with over 5.5 million tons handled, which made up for the drop in...
(Posted on 31/01/19)
Work is underway on the $33.5 million replacement of the Berth 3 deck and fender at the Port of Port Hedland, a project that will create almost 50 local jobs.Successful tenderer Total AMS Pty Ltd's WAIPS Participation Plan estimates the project will directly deliver almost 50 local jobs, as well as more than 20 subcontractor positions...
(Posted on 31/01/19)
Queensland Bulk Handling (QBH) and Bulimba Creek Catchment Coordinating Committee (B4C) will work together in a revegetation drive that will focus on greening industrial areas along Brisbane's iconic 'Brown Snake'.Launching the alliance with a tree planting exercise on Gibson Island, home to B4C's largest...
(Posted on 31/01/19)
Nominations and entries for the 2019 FTA Multimodal Awards are open, and snooker legend Steve Davis, OBE, has been announced as the host of the gala event.The FTA Multimodal Awards, hosted in Birmingham, UK, recognise best in class across all modes of transport and logistics services, including categories for Shipper of the Year...