Hamilton Port designated FTZ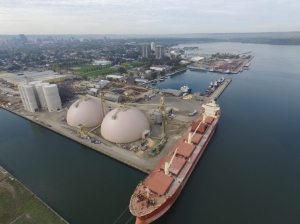 (Posted on 12/11/20)
Canada's Minister of Economic Development, the Honourable Mélanie Joly, has designated Hamilton a Foreign Trade Zone (FTZ) Point—making Hamilton the 14th FTZ in Canada, and third in Ontario. As a result, businesses that import/export goods or manufacture products in Hamilton will now have access to direct support on a range of duty deferrals and tax exemptions.
The Port of Hamilton handles some 10 million tonnes of bulk and breakbulk cargo annually, more than any other port on the Canadian Great Lakes.
Hamilton is already a multimodal hub, with a thriving cargo port and airport, and strategically located in close proximity to 400-series highways, the U.S. border, and the Greater Toronto Area. Now with the FTZ designation, it will be even more attractive and advantageous to do business in Hamilton. As Canada recovers from the effect of the pandemic, helping local businesses and strengthening our supply chains will be of key importance.
A small team of local partners, including HOPA Ports, the City of Hamilton's Economic Development Department, and John C Munro Hamilton International Airport, worked tirelessly and collaboratively over the past two years to achieve this designation.
Ian Hamilton, President & CEO, HOPA Ports said, "From our well-connected transportation network, to the country's most diverse economy, the Foreign Trade Zone designation will build on Hamilton's momentum as a goods movement leader and key trade gateway. The port and our partners are proud to help Canadian businesses expand into new markets, grow our economy, and generate well-paying jobs. In Hamilton, we know that we go farther by working together, and this announcement is evidence of that fact."
The Government of Canada said, "As Ontario's most diversified economy, home to world-class post-secondary institutions, a wide range of industries, and at an opportune location for national and international trade, Hamilton is a key contributor to Ontario's economy. As we work toward a strong recovery from the impacts of COVID-19, the Government of Canada continues to support local economic growth.
That's why today, the Honourable Mélanie Joly, Minister of Economic Development and Official Languages, along with the Honourable Filomena Tassi, Minister of Labour and Member of Parliament for Hamilton West—Ancaster—Dundas, and Bob Bratina, Member of Parliament for Hamilton East—Stoney Creek, announced support for a local manufacturer, as well as Hamilton's official designation as a Foreign Trade Zone (FTZ) Point.
The COVID-19 crisis has had unprecedented repercussions on key sectors of Ontario's industry. The government of Canada is well-aware of the economic impacts of the health and economic crisis on manufacturing the businesses and it will continue to support job-creating businesses.
With an investment of almost $4 million from FedDev Ontario, Hamilton-based packaging manufacturer and supplier HT Productions Inc. (Whitebird) will expand its facility, acquire new cutting-edge advanced manufacturing equipment and transition to a new customer-centric online system to better accommodate customer orders. With this investment, this family-owned company will create 45 skilled jobs and maintain another 105 in Hamilton.
As the local economy continues to grow and diversify, the Government of Canada is helping to bolster Hamilton's position as a great place to do business, create jobs and invest. To that end, Minister Joly, Minister Tassi and MP Bratina today announced Hamilton's designation as an FTZ Point."
Latest News
(Posted on 26/09/23)
The Port of Rotterdam Authority and Yokogawa Electric Corporation have initiated a feasibility study... Read more
(Posted on 19/09/23)
HES Gdynia in Poland has started the construction works of a grain storage facility extension in port... Read more
(Posted on 12/09/23)
A joint Statement from the United States and the European Union has been released on support for Angola... Read more
(Posted on 08/09/23)
Associated British Ports has announced the successful renewal of a lease agreement with Breedon Group... Read more
(Posted on 04/09/23)
In North Sea Port, the transportation of goods to the hinterland by inland waterway continues to increase... Read more
(Posted on 28/08/23)
Both the tense economic situation in Europe, especially in Germany, and background geopolitical factors... Read more
(Posted on 21/08/23)
Abu Dhabi based AD Ports Group has announced its financial results for the second quarter of 2023, reporting... Read more
(Posted on 14/08/23)
SOHAR Port and Freezone in the Sultanate of Oman, has signed a land lease agreement with Sohar Noble... Read more
(Posted on 09/08/23)
CN has published its 2023-2024 Grain Plan, which builds on the operational improvements introduced this... Read more
(Posted on 02/08/23)
The Maritime Standard is delighted to announce the unveiling of the second session, titled 'Ports and... Read more