Best-ever grain month for Canadian Pacific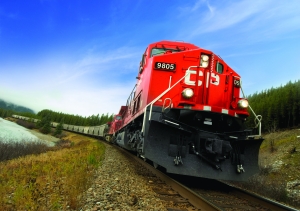 (Posted on 06/11/20)
Canadian Pacific set a new record for transporting Canadian grain and grain products in October, with 3.04 million metric tonnes (MMT) moved, the first time ever CP has exceeded 3 MMT in a month. This exceeds the highest-ever record for a month, set in April 2020, by 6.9 percent. It also betters the previous October record of 2.66 MMT, set in 2019, by 14.2 percent.
"CP's customers are managing strong and healthy supply chains to the ports, where new and expanded terminal capacity is facilitating very strong flows of grain," said Joan Hardy, CP Vice-President Sales and Marketing Grain and Fertilizers. "The CP family of railroaders ensured our customers and farmers received strong service through harvest and in turn created robust performance across the network to continue setting grain-shipping records."
CP continues to invest in its grain fleet with additional hopper cars coming into service each week. CP has so far placed 3,300 new hoppers into service out of a commitment for 5,900 laid out in 2018. The new high-efficiency cars carry 15 percent more grain volume and 10 percent more weight compared to the older cars they are replacing.
"CP's record-setting performance has enabled us to support the investments we have made in our grain-handling network, which includes port terminals on the east and west coasts," said Darwin Sobkow, Chief Operations Officer of Richardson International. "This impressive performance is achieved at the time of year when grain movement is critical to all participants in the value chain, including farmers and international customers. CP has been able to respond to global demand for Canadian agricultural products, and through our collaborated efforts, has allowed us to set some monthly records of our own."
CP voluntarily publishes a weekly Canadian grain and grain product supply chain scorecard. The scorecard outlines CP's performance for the previous grain week and includes, when necessary, detailed information on any internal or external factors affecting grain movement.
Latest News
(Posted on 05/06/23)
Peel Ports Group is investing £28 million on a new facility at the Port of Liverpool in its biggest... Read more
(Posted on 02/06/23)
Vancouver Fraser Port Authority CEO Robin Silvester has announced that he will be leaving the port authority... Read more
(Posted on 31/05/23)
AD Ports Group , the Abu Dhabi based leading facilitator of global trade, logistics and industry, has... Read more
(Posted on 31/05/23)
The World Port Climate Action Program (WPCAP) will be extended with a new focus on shore power, new... Read more
(Posted on 30/05/23)
Ships sailing from the North Sea via the Westerschelde to unload dry bulk goods at OVET's quay in Vlissingen... Read more
(Posted on 23/05/23)
The problematic trend in the world economy is affecting Port of Hamburg throughput figures. As in other... Read more
(Posted on 23/05/23)
A senior delegation from United Arab Emirates (UAE) visited Karachi and met with H.E. Faisal Sabzwari... Read more
(Posted on 16/05/23)
Two new electric harbour cranes, representing an £8.6 million investment, are the latest arrivals... Read more
(Posted on 14/05/23)
At a ceremony held during the transport logistic trade fair in Munich, Algis Latakas, General Director... Read more
(Posted on 08/05/23)
Associated British Ports (ABP's) Port of Ipswich, the UK's leading grain export port, has... Read more