Ports & Logistics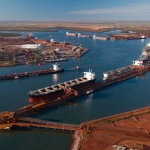 (Posted on 14/01/19)
An Expression of Interest has been completed and Pilbara Ports Authority has short-listed two respondents interested in investing to build and operate a new general cargo facility at the Port of Port Hedland. The Port of Port Hedland is the world's largest bulk export port and plays a critical role in facilitating the export...
(Posted on 14/01/19)
Dunkerque-Port's annual traffic reached 51.6 MT last year, up 3% compared with 2017 (50.2 MT).Solid bulk traffic increased 5% to 25.91 MT. Ore traffic set a new record, for the first time passing the 15 MT mark, driven by the activity of the ArcelorMittal plant in Dunkerque, but also by the very good figures for transshipment flows...
(Posted on 14/01/19)
The Transport Committee of the European Parliament has adopted its position on the Commission proposal for a regulation establishing a European Maritime Single Window Environment. In many ways, the adopted Clune report improves the Commission proposal and is a solid basis for finding a compromise with the Council on this long awaited...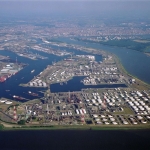 (Posted on 07/01/19)
2018 looks set to be a record year for the Port of Antwerp for the sixth time in a row, with growth in all types of cargo and a recent wave of investments. This confirms the port's attraction and further establishes its position as a world-class player that is also home to the largest integrated chemical cluster in Europe. Crucially...
(Posted on 07/01/19)
The Port of Newcastle has marked an important milestone in the development of the Newcastle Bulk Terminal. The dismantling of the old ship unloaders is now complete, with bulk cargo hoppers now in place to provide continuity of trade while the new ship unloader and conveyor system is constructed.The old ship unloaders at the...
(Posted on 07/01/19)
BPA Chief Executive Richard Ballantyne has outlined the Association's key priorities for 2019.The BPA is looking at challenges and opportunities facing UK ports beyond Brexit this year, although potential new border controls, changes to environmental and regulatory rules and a new fisheries policy remain as major themes for...