Ports & Logistics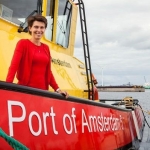 (Posted on 29/04/19)
Marleen van de Kerkhof, Rijkshavenmeester Amsterdam-IJmond and director of Central Nautical Management of the North Sea Canal Area departs from Port of Amsterdam. She will start on 1 July as a new Sector Manager / Deputy Commander at the Amsterdam-Amstelland Fire Department.The Amsterdam port area is a leading player in the...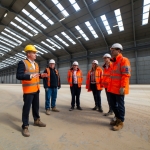 (Posted on 24/04/19)
Global animal feed trader and supply chain leader ADM Agriculture (formerly ADM Arkady) has completed its £7.4m expansion at the Port of Liverpool, providing the equivalent of two football pitches of extra capacity for trade in bulk agricultural goods. This makes the Liverpool animal feed store the largest in the UK.In 2018...
(Posted on 24/04/19)
For the Russian state-owned enterprise Rosatom, the Northern Sea Route – NSR that is approx. 4,800 kilometres long, has enormous potential for shipping and cargo transport. According to Rosatom, in 2018 some 20.2 million tons of cargo was carried on the Arctic sea trade. Year-round navigability along the NSR should be achieved...
(Posted on 24/04/19)
The Vancouver Fraser Port Authority is hosting two public open houses on the following proposed amendments to its Land Use Plan:The port authority recently acquired three properties in Vancouver, Surrey and Delta.The port authority entered into a long-term lease (60 years) with the Province of B.C. on a site in Delta.The designation...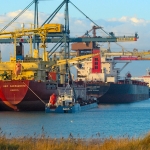 (Posted on 18/04/19)
After an exceptional month of March (5.22 MT), Dunkerque-Port has closed the first quarter pf 2019 with an increase in overall traffic of 5% compared with the previous year. With monthly traffic figures of more than 5 MT in March, Dunkerque-Port is approaching its historic monthly record established in April 2008 (5.29 MT), before...
(Posted on 18/04/19)
In the first quarter of 2019, 5.1% more freight passed through the Port of Rotterdam than in the same period last year. In total, 123.9 million tonnes were handled compared with 117.8 million tonnes in the same period in 2018. The increase mainly concerned the throughput of containers (+7.3% in TEU, +5.9% in tonnes) and fuels. Mineral...