Bedeschi assists Albioma biomass transition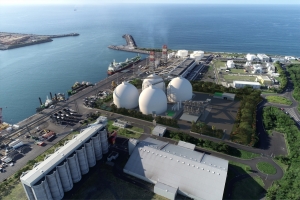 (Posted on 26/05/21)
The Group Albioma, an independent renewable energy producer engaged in energy transition through biomass, photovoltaic and geothermy, established in Metropolitan France, Overseas France, Mauritius, Brazil and Turkey, has developed a unique partnership over 25 years with the sugar industry, for the use and combustion of bagasse, a fibrous residue from sugar cane. This significantly contributes to the energy autonomy of the French Overseas islands, by burning bagasse in their energy thermal plants for 6 months of the year (coal is used for the other 6 months).
Albioma has begun a new major project at their thermal Plant of Bois Rouge in La Reunion, which will have a significant impact on the environment by converting their existing boilers from "bagasse & coal" to fully green energy combustion. This Plant, which produces more than 20% of the island electrical power, will fully give-up the coal combustion to replace it by biomass combustion by the end of 2023, and will thereby contribute to increase the renewable energy rate of the total Energy mix in La Réunion, from 35% to 51%.
Bedeschi is proud to contribute to such an important transition which marks a crucial milestone for environmental safeguards and will respect the strictest environmental standards (dust emission, noise level etc.). Bedeschi's scope of supply involves Albioma installations at the port of La Réunion, which allow to unload and store the imported wood pellets from ships. Bedeschi services are realized on a turnkey basis. They include two eco-hoppers, belt conveyors for transporting wood pellet to the domes of 45.000 cubic meters each, with a flow capacity of 1.200 cubic meters per hour. Moreover, Bedeschi will supply underground conveyors systems with a capacity of 1000 cubic meters per hour to load the trucks. This project confirms not only Bedeschi long-term engagement in environment safeguards, but also the competence of its engineering team. Besides the turn-key systems and installation, Bedeschi will guarantee also continuous and prompt field assistance and maintenance to support Albioma in the completion of the project.
The development of the new port facility will contribute to increase the economic growth of the island and the employment rate.
Latest News
(Posted on 27/01/23)
In addition to helping its 12 member ports decarbonize, the World Ports Climate Action Program (WPCAP... Read more
(Posted on 27/01/23)
The first ship of the year, M/V Cape Alexandros, arrived at 11:00 a.m. on January 4, 2023, from Rotterdam... Read more
(Posted on 27/01/23)
AD Ports Group the leading facilitator of global trade, logistics, and industry, has signed a Memorandum... Read more
(Posted on 23/01/23)
In the presence of the UAE President His Highness Sheikh Mohamed bin Zayed Al Nahyan, and the President... Read more
(Posted on 16/01/23)
The Port of South Louisiana (Port SL) CEO Paul Matthews, has announced that it has entered into a Purchase... Read more
(Posted on 16/01/23)
With 73.6 million tons of cargo transhipment from maritime shipping (+7%) and 64.5 million tons from... Read more
(Posted on 12/01/23)
Despite unfavourable economic conditions, traffic in the port of Dunkerque, the third largest port in... Read more
(Posted on 10/01/23)
North Sea Port CEO Daan Schalck has been looking back as well as forward. 2022, was a year in which... Read more
(Posted on 10/01/23)
A multi-million-pound deal has been agreed to build a new road salt storage facility to support Scotland... Read more
(Posted on 10/01/23)
Ports Minister Rita Saffioti has announced Samuel McSkimming as the new CEO of the Pilbara Ports Authority... Read more