Hamburg to support Chilean bulk port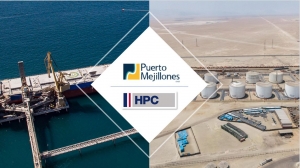 (Posted on 21/05/21)
HPC Hamburg Port Consulting, the logistics consultancy providing management consulting and software solutions for ports, sea and inland terminals as well as intermodal rail, has been awarded a contract to deliver a comprehensive assessment study looking into the operational process flow, infrastructure, equipment and maintenance as well as IT landscape of Puerto Mejillones, Chile, to assist the client in strengthening operational resilience and optimising its terminal operations.
Located on the Bay of Mejillones, 65 km north of the city of Antofagasta, Puerto Mejillones is a major terminal for solid and liquid bulk cargoes such as copper concentrate, clinker, lead, tin, sulphur and sulphuric acid. Furthermore, the port provides specialised services for the entire port logistics chain of the Antofagasta region. Since its commissioning in 1996, Puerto Mejillones has become a vital strategic partner for the mining industry of the region.
Handling mineral concentrates requires specialised infrastructure with high environmental standards to protect human health, the environment, and operations. To maintain these high standards and continuously adapt them to the growing needs of future-proof terminal operations, Puerto Mejillones commissioned HPC to conduct an assessment study.
"Following our holistic port planning concept, the further development of our terminals must also be oriented towards the growing needs of the region", said José Sáenz P., CEO at Puerto Mejillones. "With the help of the assessment, we strive for actionable clarity to check our development strategy for its effectiveness - in the short and long term. In this way, we want to sufficiently and safely ensure the continuity of operations over the next 25 years."
"HPC appreciates the trust of the team of Puerto Mejillones and the great teamwork to design the strategic roadmap", said Pablo Bowen, Associate Partner at HPC and responsible for the Latin America and Caribbean region. "It allows the client to adopt high industry standards and continuously adapt them to the growing needs of future-proof Puerto Mejillones."
The assessment aimed to identify opportunities for improvement in maintenance management as well as potential to increase the performance and sustainability of the operations. Based on a multidisciplinary and holistic approach, HPC examined operational and maintenance processes, evaluating their alignment and effectiveness with the business strategy, overall equipment effectiveness, the performance and quality of production, KPIs as well as the civil infrastructure, governance and IT systems.
To do that, HPC has teamed up with two companies based in Hamburg, Sellhorn Ingenieurgesellschaft for the civil and port infrastructure review and BSPartner as experts for liquid and dry bulk, as well as with the local partner Akroscan for extensive site inspections and measurements. As a result of the first project phase, HPC was able to develop a list of more than 60 recommendations that lead to short-, medium- and long-term improvements in operational safety and higher productivity.
Latest News
(Posted on 07/12/23)
US Port owners should start immediate planning to take advantage of the $3bn available in grants as... Read more
(Posted on 07/12/23)
The Vancouver Fraser Port Authority's board of directors has announced that it has appointed Peter... Read more
(Posted on 03/12/23)
In the presence of Kassym-Jomart Tokayev, President of the Republic of Kazakhstan, AD Ports Group, a... Read more
(Posted on 03/12/23)
Lhyfe, a global pioneer in the production of renewable green hydrogen for transportation and industrial... Read more
(Posted on 26/11/23)
A 194 million euro investment in North Sea Port will secure large-scale CO2 reduction by the largest... Read more
(Posted on 17/11/23)
The Central Association of German Seaport Operators (ZDS) has called for a decisive German port policy... Read more
(Posted on 13/11/23)
A groundbreaking feasibility study has highlighted the potential for using clean ammonia to refuel ships... Read more
(Posted on 05/11/23)
IAPH has announced the ratification by the IAPH Council of the new IAPH Board. The Board is formed by... Read more
(Posted on 05/11/23)
CN has announced that it acquired from Genesee & Wyoming Inc., a stake in the Cape Breton &... Read more
(Posted on 31/10/23)
Due to continued very high inflation, the Hamburg Port Authority (HPA) will raise port fees by an average... Read more