Ports & Logistics
(Posted on 15/06/18)
The British Ports Association has welcomed the publication of the temporary customs arrangement, known as the 'customs backstop'.Commenting on the development, the BPA Chief Executive, Richard Ballantyne, said: "This arrangement will give ports and freight operators a measure of short-term certainty. It is now...
(Posted on 15/06/18)
In line with the commitments of the PA2D (Sustainable Development and Action Plan), Dunkerque-Port has received the EcoPorts network's PERS certification (Port Environmental Review System), granted by the ESPO (European Sea Ports Organisation).This environmental management certification, specific to the port sector, attests to correct...
(Posted on 15/06/18)
The US Army Corps of Engineers (USACE) has announced $49m for the Charleston Harbour Deepening Project in the Fiscal Year 18 Work Plan, critical funds that will be coupled with financial support from the State of South Carolina to further the progress of deepening the Charleston Harbor to 52ft."This funding is great news for continued...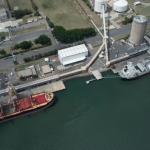 (Posted on 08/06/18)
Newcastle Bulk Terminal raises the barThe Port of Newcastle is demonstrating its commitment to the diversified trades of the Port by formally launching the Newcastle Bulk Terminal at Walsh Point, Kooragang Island.The launch of the Terminal showcases a $33 million investment made by the Port of Newcastle in bulk cargo handling...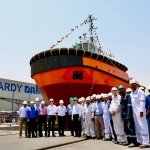 (Posted on 08/06/18)
The new ASD Tug 2913 for Saqr Port, part of Ras Al Khaimah (RAK) Ports, has been launched at the Albwardy Damen shipyard in Sharjah, UAE. Ordered twelve months ago, the tug will join the RAK Ports tug fleet and operate in the new and impressive deep-water bulk terminal currently nearing completion at the port. There its 80-tonnes...
(Posted on 08/06/18)
Development of transport corridors ensures smart and innovative cross-border transport and logistics services on the core transport network of the Baltic Sea Region. The ways to develop the smart North Sea–Baltic, Baltic–Adriatic and Scandinavian–Mediterranean Core Network Corridors in the new Multiannual Financial...